Fast Remote iOS 16 MDM Bypass (iPhone and iPad)
The presentation of an iOS 16 update by Apple makes many iPhone and iPad users want to enjoy the new features and improvements immediately. However, those who own a pre-owned device could face an issue after the upgrade. Suppose you see a Mobile Device Management profile on your screen. In that case, you should use the iOS 16 MDM bypass iPhone and iPad service to remove all the limitations.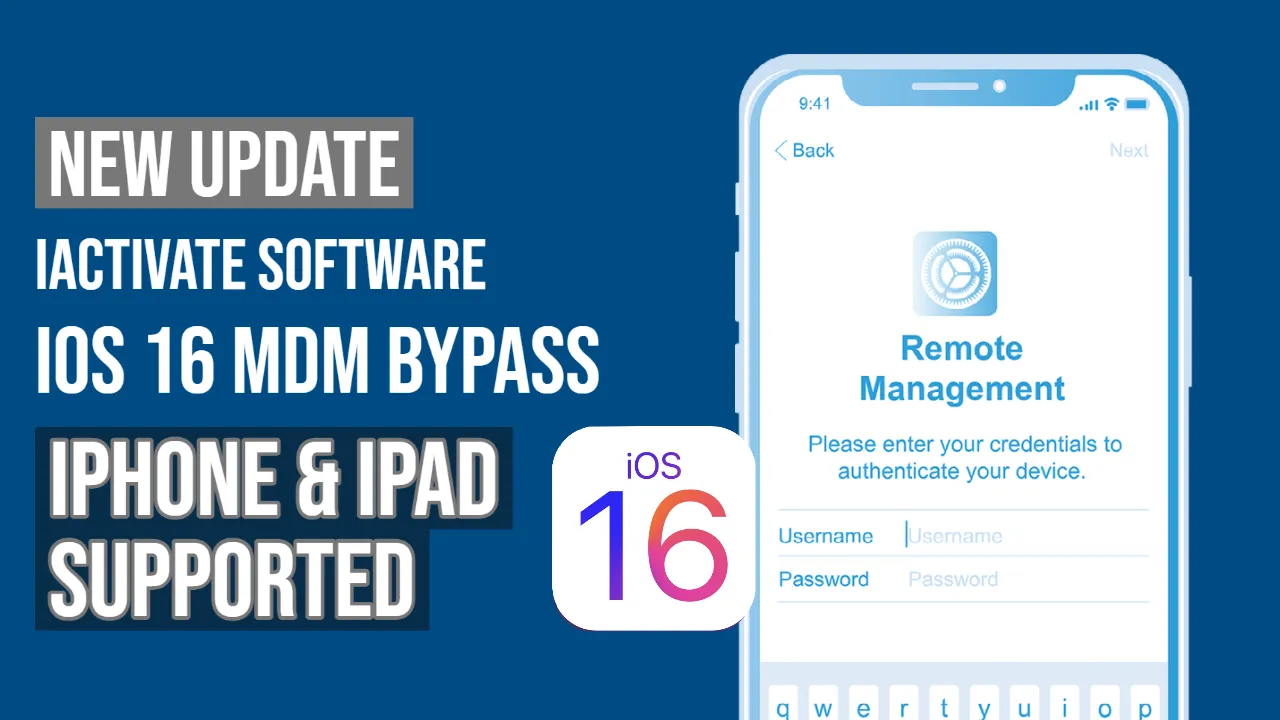 Glosario
The solution offers a single-button fix, which makes it easy to be used by anyone. You only click that button; the software does the rest.
Why bypass MDM on iOS 16?
Companies that use the DEP program install Mobile Device Management profiles on corporate Apple devices. It provides them with complete remote control over the iPhone and iPad.
You cannot do what you want if your device is enrolled in DEP and has an MDM profile. The company administrator can erase, upgrade, or lock your gadget at any moment.
But you can always perform MDM bypass on iPhone and iPad updated to iOS 16 with the iActivate software. It is a fast, easy, friendly process that guarantees your happiness.
What issues does iOS 16 MDM bypass fix?
Using the removal tool, you can get rid of the Mobile Device Management profile with a single click of a mouse. It's great for those with a second-hand corporate device who wish to gain complete control over it instead of a company.
The iActivate Tool will not ask for login credentials to bypass MDM on your device. It will also fix the 'could not be downloaded' issues regarding the configurations of MDM. And you can use all the functions, features, and options the latest iOS 16 firmware offers you right after bypass.
How to remove the MDM profile on an iOS 16 device?
Fixing the issues with your iPhone or iPad remote control is simple. All you need to do is run the software. It does the rest on your behalf. Here is how it works:
Step 1. You get the most recent version of iActivate that supports iOS 16. Then, install it on your Windows PC or Mac (choose the correct tool version) and connect a locked iDevice.
Step 2. Launch the software and follow the guidelines it displays.
Step 3. Bypass an MDM profile on the iOS 16 firmware version and connect to WiFi to activate the iPhone or iPad. Then begin using the device with no corporate control.
Finally, you can do what you want without fear that someone could block, erase, or update your Apple gadget remotely.
Software de desbloqueo de iPhone y iPad
Software de desbloqueo de Mac