EFI Firmware Password Removal
iRemove Tools
Users with a Mac computer locked with firmware passcode can remove EFI password with iRemove software. It is the best EFI removal password tool available in the market today. It works on all macOS devices with a T2 security chip. The iRemove is a perfect EFI Firmware unlocking tool for Mac Mini (Pro), MacBook Air (Pro), and iMac (Pro) users.
Attention! Do not order this service if your Mac device is iCloud-locked and you don't have Apple ID credentials!
Supported Mac Models:

MacBook Pro (2018-2020)
MacBook Air (2018-2021)
Mac Mini (2018)
Mac Pro (2019)
iMac Pro (2018)

Supported MacOS Firmwares:

DATA SAVE up to MacOS 11 Big Sur
DATA ERASED up to MacOS 13 Ventura
EFI Firmware Passcode Lock Removal Pricing
Choose your price plan for iRemove EFI Removal Tools. Please refer to the plan description before you place an order. iRemove Software ready to bypass EFI Firmware Passcode on the following Mac models:
Pricing
Models List
A-Models
MODEL YEAR
MODEL IDENTIFIER
PART NUMBER
PRICING
MacBook Pro
A2251
A2289
2020
MXK32xx/A
MXK52xx/A
MXK62xx/A
MXK72xx/A
MWP42xx/A
MWP52xx/A
MWP62xx/A
MWP72xx/A
MWP82xx/A
MacBookPro16,3
MacBookPro16,2
$99.99
MacBook Pro
A1989
A1190
A2159
A2141
2019
MV962xx/A
MV972xx/A
MV982xx/A
MV992xx/A
MV9A2xx/A
MV902xx/A
MV912xx/A
MV922xx/A
MV932xx/A
MV942xx/A
MV952xx/A
MVVJ2xx/A
MVVK2xx/A
MVVL2xx/A
MVVM2xx/A
MVVJ2xx/A
MVVK2xx/A
MVVL2xx/A
MVVM2xx/A
MUHN2xx/A
MUHP2xx/a
MUHQ2xx/A
MUHR2xx/A
MUHR2xx/B
MacBookPro15,1
MacBookPro15,2
MacBookPro15,3
MacBookPro15,4
MacBookPro16,1
$99.99
MacBook Pro
A1190
A1989
2018
MR9Q2xx/A
MR9R2xx/A
MR9T2xx/A
MR9U2xx/A
MR9V2xx/A
MR932xx/A
MR942xx/A
MR952xx/A
MR962xx/A
MR972xx/A
MUQH2xx/A
MacBookPro15,1
MacBookPro15,2
$99.99
MacBook Air
A1932
2020
MVH22xx/A
MVH42xx/A
MVH52xx/A
MWTJ2xx/A
MWTK2xx/A
MWTL2xx/A
MacBookAir9,1
$99.99
MacBook Air
A1932
2019
MVFH2xx/A
MVFJ2xx/A
MVFK2xx/A
MVFL2xx/A
MVFM2xx/A
MVFN2xx/A
MVH62xx/A
MVH82xx/A
MacBookAir8,2
$99.99
MacBook Air
A1932
2018
MRE82xx/A
MREA2xx/A
MREE2xx/A
MRE92xx/A
MREC2xx/A
MREF2xx/A
MUQT2xx/A
MacBookAir8,1
$99.99
Mac Mini
A1193
2018
MRTR2xx/A
MRTT2xx/A
MXNF2xx/A
MXNG2xx/A
Macmini8,1
$99.99
iMac
A2115
2020
MXWT2xx/A
MXWU2xx/A
MXWV2xx/A
iMac20,1
iMac20,2
$99.99
iMac Pro
A1862
2017
MQ2Y2xx/A
MHLV3xx/A
iMacPro1,1
$99.99
How to Remove EFI Lock on Mac using iRemove Software?
iRemove Dev Team has created a step-by-step User's Guide on using the iRemove EFI password removal tool.
Download and Install iRemove EFI Firmware Password Removal Tool
Using iRemove to remove EFI is fast and straightforward. This software will give you full access to your Mac computer, disk, and utilities. To remove EFI passcode, you have to use two Mac computers, USB type C - USB type C cable, and the iRemove software. One Mac should be fully workable. The second Mac (you will be unlocking) must have the T2 security chip and enabled EFI password.
Start by downloading the iRemove tools and installing the software on a fully workable macOS computer.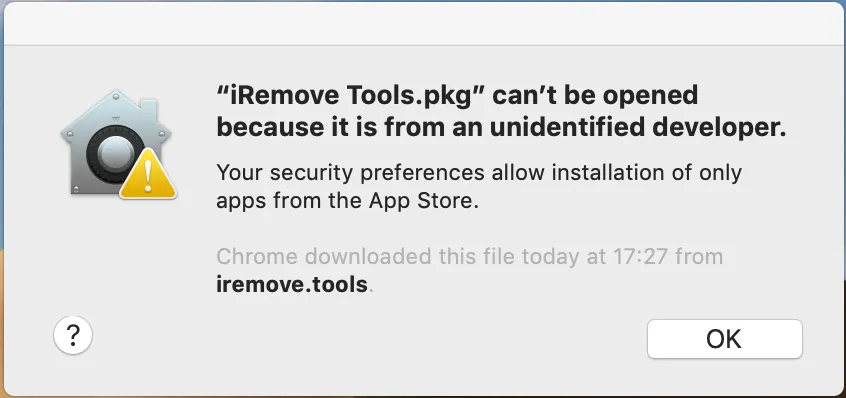 'iRemove Tools.pkg' can't be opened
If you try to open an app that isn't registered with Apple by an identified developer, you get a warning dialog. It doesn't necessarily mean that something is wrong with the app. Use the official Apple Guide to open a Mac app from an unidentified developer to run the iRemove Tool on your device.
Start Software Installation

Allow the software installation

Complete the software installation
To open iRemove software, you should click on its icon or Launchpad icon in the Dock. If you choose the Launchpad option, click the iRemove Software icon. The main advantage of iRemove software is its simplicity and straightforwardness. It will remove the EFI password lock in a minute.
Check EFI Bypass Possibility
Use the Type-C cable to connect your working Mac and the locked computer. The software will show the correct type C port you need and a list of Macs, from which you must select your locked device.
The iRemove tool will guide you on putting the locked computer into DFU mode. Follow this instruction and enter the DFU mode.
The iRemove EFI removal password tool will identify the Mac in DFU mode. The software will show you a message once the computer enters the mode correctly, and it will also display tech details about the locked Mac. You can now place an order to remove EFI Firmware password. Please make sure to provide the correct ECID number of your Mac.
Prepare the Apple MacBook Pro & Air for EFI Firmware Passcode Bypass

Press the power button.
While holding down the power button, at the same time press all three of the following keys for about 10 seconds:
The right Shift key;
The left Option key;
The left Control key;
After 10 seconds, release the three keys immediately but continue holding down the power button until it appears in iRemove Software.
Note: You won't see any screen activity on the Apple computer. The software will detect your device if you correctly put it into DFU mode. Users eligible to remove EFI passcode protection will be prompted to order EFI Lock bypass. Only verified Mac users can use the iRemove service.
You can now complete the payment. As the payment is cleared, the iRemove Database will record your Mac's ECID number. This record is your lifetime license for using iRemove. You can reuse the iRemove Tool to bypass the EFI lock on your computer.
Order iRemove EFI Firmware Password Unlock Software License
Place your order and pay. We accept the following payment methods - Visa, Mastercard, American Express, Cryptocurrency, and Z3X credits. Once your payment is cleared, your device's ECID will permanently be added to the iRemove Software Database. You are free to use the software right away to remove the EFI lock screen and unlock your Mac.
A lifetime license is provided for only one locked device, which ECID is recorded in the iRemove Database. You can reuse the iRemove software on your device free of charge!
Run EFI Lock removal process with iRemove Software
After placing the order, press the 'Start' button on the iRemove tool to begin the EFI unlocking process. The previously-locked Mac will turn off as soon as the EFI passcode is removed
To complete the process, please take the following steps:
Install MacOS using Recovery Mode (Command + R) or Internet Recovery Mode (Command + Option + R)
Start using your Mac without any restrictions. It no longer has the EFI firmware password!
iRemove Software Partnership
Wholesalers and small business owners will love the benefits our partnership offers. You can become our partner if you have a GSM store, workshop, or other business. The iRemove Partnership Program supports GSM Fusion, DHRU, and other popular GSM services. We use API connections for connecting reseller websites to the services we offer. We have also developed a client system for quick access to all services.
Become an iRemove Affiliate
Do you have a tech blog? Are you running a YouTube channel or Instagram account? Join the iRemove Affiliate Program to earn extra money and enjoy passive income. You can offer Mac users the iRemove unlock and bypass services and benefit from being our affiliate. If you wish to start earning extra money today, please send us your Affiliate Request.
Join Affiliate Program