Unc0ver Jailbreak Guide
How to Install Unc0ver Jailbreak with AltStore and Jailbreak iPhone or iPad (iOS 12-14.8)
The latest update of unc0ver jailbreak now supports iOS versions through iOS 14.8. It means that you can install this reliable semi-untethered jailbreaking tool on your iPhone, iPad with the help of AltStore (to turn FMI off on active menu devices). It works both on Windows PC and Mac computers. This guide explains how to install unc0ver using AltStore and jailbreak your iPhone or iPad running on iOS 12-14.8. This jailbreak guide is required before using the Apple ID Removal Tool.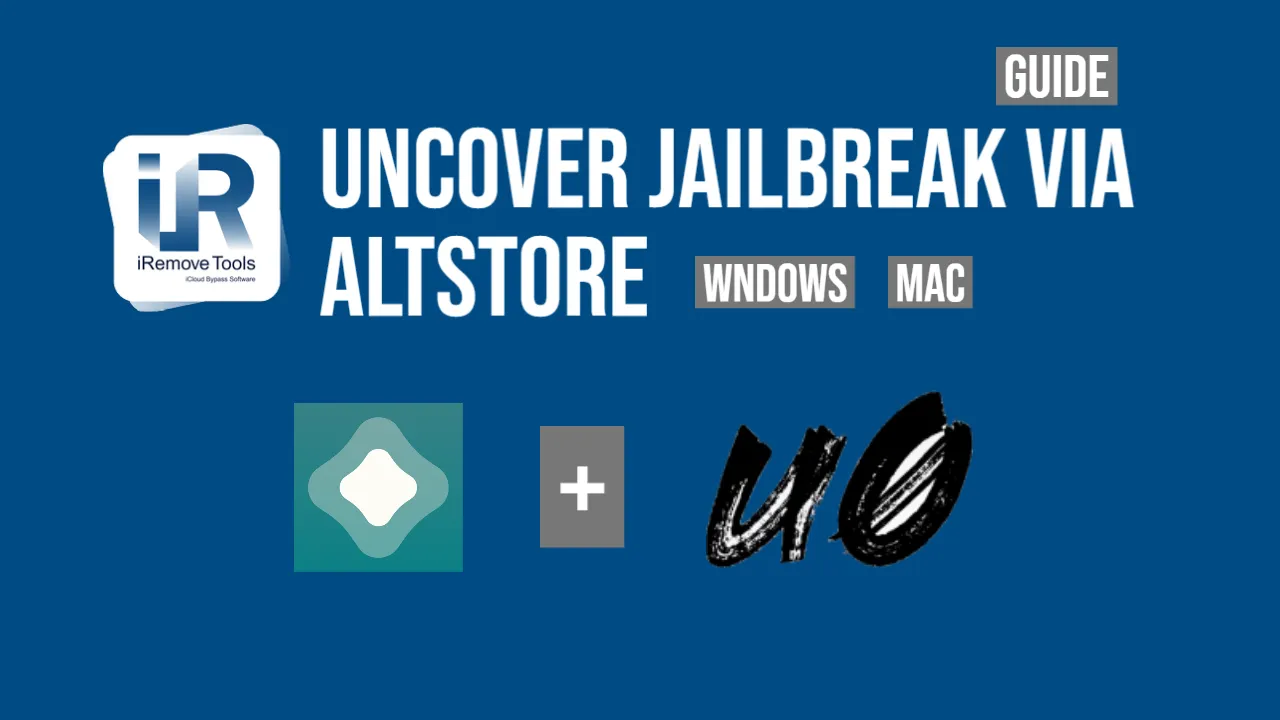 What is AltStore?
It is easy to sideload games and applications to your iPhone and iPad using the third-party app called AltStore. It allows anyone to use their Apple ID and install nearly anything on the iOS device that can't be installed through the official App Store or iTunes.
Using AltStore is easy. It requires no jailbreaking. Ensure you have a Lightning cable to connect your iPhone or iPad to your computer and a stable WiFi connection.
AltStore lets you install unc0ver jailbreak on any iPhone or iPad running iOS 12.2 or newer version. Unfortunately, this store will not let you enjoy unc0ver on earlier iOS devices, even though this semi-untethered jailbreak supports operating systems starting from iOS 12 and through iOS 14.8.
Install AltStore MacOS PC
Follow the steps below to install AltStore and jailbreak iOS 12.2-14.8 iPhone or iPad with Unc0ver. You will use your Mac computer.
Download the AltStore app for macOS from here: https://www.altstore.io/

Unzip the folder and move the AltStore icon to the folder with Applications.
Launch AltStore on your Mac and then click its icon in your Menu bar to Install Mail Plug-in.
You must click 'Install Plug-in' and enter your password to ensure it will be installed successfully.
Launch Mail and go to its Preferences - choose General tab, then Manage Plug-ins. Here you should check 'AltPlugin.mailbundle' option before pressing the 'Apply and Restart Mail' button.
A Lightning cable will help you connect the iOS 12.2-14.8 iPhone or iPad to your Mac.
From the Menu bar, press the AltStore icon and select the 'Install AltStore' option → iPhone/iPad model of yours.
It is a must to enter your Apple ID/password before you can press the 'Install' button.
You will see a message, 'Installation Succeeded'. But don't launch it yet on iPhone or iPad. Firstly, go to Settings → General → Device Management and point to your Apple ID. You must press 'Trust' (your Apple ID) and then the red 'Trust' button to finish the AltStore installation on the mobile device.
You have now successfully set up AltStore on a Mac computer. Next, you'll be installing the store on an iPhone or iPad.
Install AltStore on Windows PC
Luckily, Windows users whose iPhone or iPad is running iOS 12 or newer OS version can also install the unc0ver Jailbreak using AltStore. See how you can complete this mission below.
You will have to install iTunes on Win32 (https://www.apple.com/itunes/download/win32) or Win64 (https://www.apple.com/itunes/download/win32
Choose your Windows version of AltStore: (https://www.altstore.io/ and download it as well.
Right-click the AltStore .zip folder and choose 'Extract All' to get all the files on your computer.

Double-click the 'Setup.exe' file. You will see the on-screen guidelines you should follow to install AltStore on Windows PC.

On your keyboard, click the Windows key. Now type the word 'AltServer' and launch the software.

Look at the taskbar and press the 'arrow' icon next to your network icon. You will see a menu appearing with many different icons, among which you should find the diamond-shaped logotype. By hovering your mouse over this logo, you will see 'AltServer'. Press it to launch it.

Point to 'Install AltStore' and choose your iPhone or iPad. Please type in your Apple ID and password to continue.

Take your iOS 12.2-14.8 device and launch Settings → go to the General menu and select the Device Management option. Click your Apple ID and choose 'Trust AltStore'.

You will see the 'Open in AltStore' option, which you must click, and if asked, use the same Apple ID as above to sign in to your account.
Install the Unc0ver jailbreak tool on your iPhone or iPad and jailbreak it!
Please note! Jailbreak is required before using the Apple ID remove Software on the next iPhone and iPad models:
iPhone 12 (Mini, Pro, Max) (A14 CPU) running on iOS 14.6-14.8;
iPhone 11 (Pro, Max) & SE (2nd generation) (A13 CPU) running on iOS 14.6 - 14.8;
iPhone XS\XS\XR and iPad 8th (Mini 5th, Air 3rd) (A12 CPU) running on iOS 14.6 - 14.8;
Launch Safari on the iOS device and go to https://unc0ver.dev/. Click the 'Open in AltStore' button located below the blue 'Download' option. Press 'Open' and wait for the AltStore to upload the unc0ver.ipa file for you.

Enter your Apple ID and password (just as you did above) and click 'Sign in' to see the unc0ver Jailbreak tool in the list of downloaded apps.

Return to your Home screen, launch the Unc0ver application and click the blue 'Jailbreak' button to jailbreak your iOS 12-14.8 device. You will see Cydia appear as soon as jailbreak completes.

Attention! This step is IMPORTANT if you want to use the Apple ID Removal Tool! Don't forget to install OpenSSH as soon as jailbreaking is done. You will have to launch Cydia and search for the 'OpenSSH' service. Then you click 'Install' and wait for the installation to complete. You can find a guide on how to install OpenSSH on a jailbroken iPhone or iPad below.
How to Install OpenSSH
It is easy to install OpenSSH after jailbreaking your iPhone or iPad with unc0ver Jailbreak. Here is a guide on how to Install OpenSSH:
On your home screen, you will see the Unc0ver logo. When you click it, you will see that your device is now 'Jailbroken'.
Next to the unc0ver logo, you will find the Cydia app. Launch it. You must search for 'SSH' in the 'Package Names & Descriptions' field. You will have to download the 'SSH Connect' package (confirm your decision). Be patient as Cydia downloads, unpacks, installs, and loads SSH Connect on your iPhone or iPad.
iPhone & iPad Unlock Software