Unlock Passcode Disabled iPhone
iRemove Tools
Did you forget your iPhone passcode? Is your device disabled? Use iRemove Software to bypass the Passcode Lock Screen and unlock your disabled iPhone quickly and easily!
Supported iOS Firmware:

from iOS 12.0 up to iOS 15.6

Supported iPhone Models:

from iPhone 7 up to iPhone X

Additional Information:

Jailbreak is not required!
Unlock Passcode Disabled iPhone Pricing
Bypassing the passcode lock on iPhone is easy if you choose the iRemove Tool. This one-click solution will remove the passcode from your iPhone and unlock your device.
Pricing
Models List
A-Models
Price
iPhone X
A1907, A1902, A1865, A1901
$39.99
iPhone 8 Plus
A1864, A1898, A1899, A1897
$39.99
iPhone 8
A1905, A1863, A1906, A1907
$39.99
iPhone 7 Plus
A1784, A1661, A1785, A1786
$29.99
iPhone 7
A1778, A1660, A1779, A1780
$29.99
How to Unlock a Passcode Disabled iPhone?
Below you will find a step-by-step guide on unlocking a passcode-disabled iPhone with iRemove software.
Download & Install Unlock iPhone Passcode Software
You can easily remove the Passcode Lock Screen on a disabled iPhone with the help of iRemove software.
Guide for macOS users
The first thing you should do is download the iRemove Bypass Passcode Disabled iPhone Tool on Mac PC. Once downloaded, launch it with a right-mouse or touchpad-click on the app icon, and left-button-click 'Open'. The app will require full permission, so make sure you have granted it. You will have to disable FileVault if you face any issues with the iRemove app running while the FileVault is on.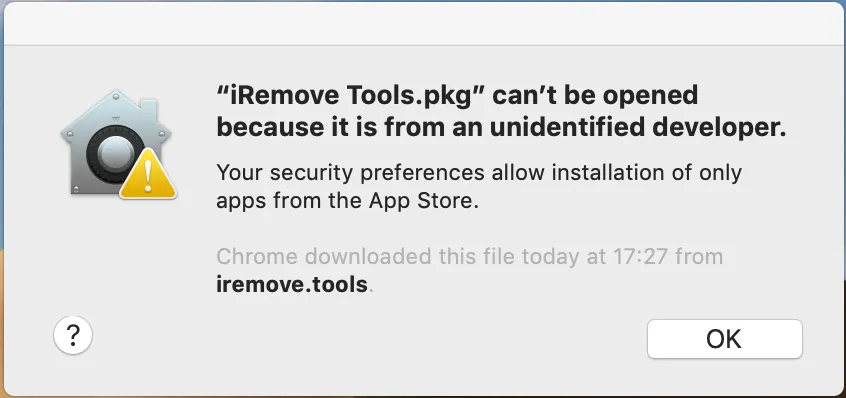 'iRemove Tools.pkg' can't be opened
If you try to open an app that isn't registered with Apple by an identified developer, you get a warning dialog. It doesn't necessarily mean that something's wrong with the app. Use the official Apple Guide on how to open a Mac app from an unidentified developer to run the iRemove Tool on your device.
Start Software Installation

Allow the software installation

Complete the software installation
Click the iRemove software icon to open it. Or go to Dock and click the Launchpad icon and then iRemove iPhone Passcode Unlock software icon.
Check iPhone Passcode Bypass Possibility
Prepare your iPhone to remove the passcode:
Use a USB cable to connect your iPhone to your Mac. Put your passcode-disabled iPhone in DFU mode. Let the software detect your iPhone model and show you an on-screen guide with detailed instructions on putting your device in DFU mode. Or you can use our detailed guide titled "How to put your iPhone in DFU mode" with a video tutorial.
You need to enter your passcode-disabled iPhone in DFU mode before you start to use the passcode bypass tool.

The software will detect the device with a disabled password in DFU mode and check it automatically.
The software will let you know if your iPhone is supported and offer to order the passcode bypass service.

Once the payment is completed, the software will detect your device and prompt you to run the passcode bypass process.
Order iRemove Unlock Passcode iPhone Software Licence
Place your order and make payment. We accept the following payment methods: Visa, Mastercard, American Express, Cryptocurrency, and Z3X credits. Once your payment is cleared, your device's ECID number will permanently be added to the iRemove Software Database. Now you can use the software to bypass the passcode lock on your iPhone.
A lifetime license is a license provided for only one locked device, which IMEI or a serial number is recorded in the iRemove Database. You can reuse the iRemove software on your device free of charge after each iOS update or factory reset!
Run iPhone Passcode Bypass process with iRemove Software
Click the 'Start Bypass' button and wait until the tool shows you a message that you need to restore your device. You will also get a link to the detailed guide on how to restore iPhone via iTunes.
Once the restore process is complete, your device will be automatically updated to the latest iOS version. Please note that the process will permanently delete all data on a passcode-locked device.
Close iTunes and return to the iRemove software. Press the 'Start' option, then wait for the completion of the passcode bypass process on your iPhone. The program will notify you about a successful bypass!
Now, the passcode lock screen is removed from your iPhone permanently. You can set up your device like new and enjoy its full functionality. You can use your Apple ID on it, install apps from the App Store, make and receive calls, enjoy Internet surfing, and have no restrictions.
Please do not reset your device to the factory settings. In case of a device factory reset, you need to repeat the bypass process.
iRemove Software Partnership
Wholesalers and small business owners will love the benefits our partnership offers. You can become our partner if you have a GSM store, workshop, or other business. The iRemove Partnership Program supports GSM Fusion, DHRU, and other popular GSM services. We use API connections for connecting reseller websites to the services we offer. We have also developed a client system for quick access to all services.
Become an iRemove Affiliate
Do you have a tech blog? Are you running a YouTube channel or Instagram account? Join the iRemove Affiliate Program to earn extra money and enjoy passive income. You can offer Mac users the iRemove unlock and bypass services and benefit from being our affiliate. If you wish to start earning extra money today, please send us your Affiliate Request.
Join Affiliate Program