Jailbreak iOS Device on Windows PC
Jailbreak Guide
Checkra1n Dev team continues working on its iOS jailbreak app update. The team is planning to bring Windows OS support in the future release. Even though the official Checkra1n jailbreak tool is not available for Windows PC at the moment, there is an excellent bypass solution you can try. Below, you will find instructions on performing Checkra1n Jailbreak using the innovative Checkn1x tool and bypassing the iOS Activation Lock on Windows computers. You'll be able to jailbreak devices running iOS 12 up to 14.8.1 on Windows PC with Checkn1x.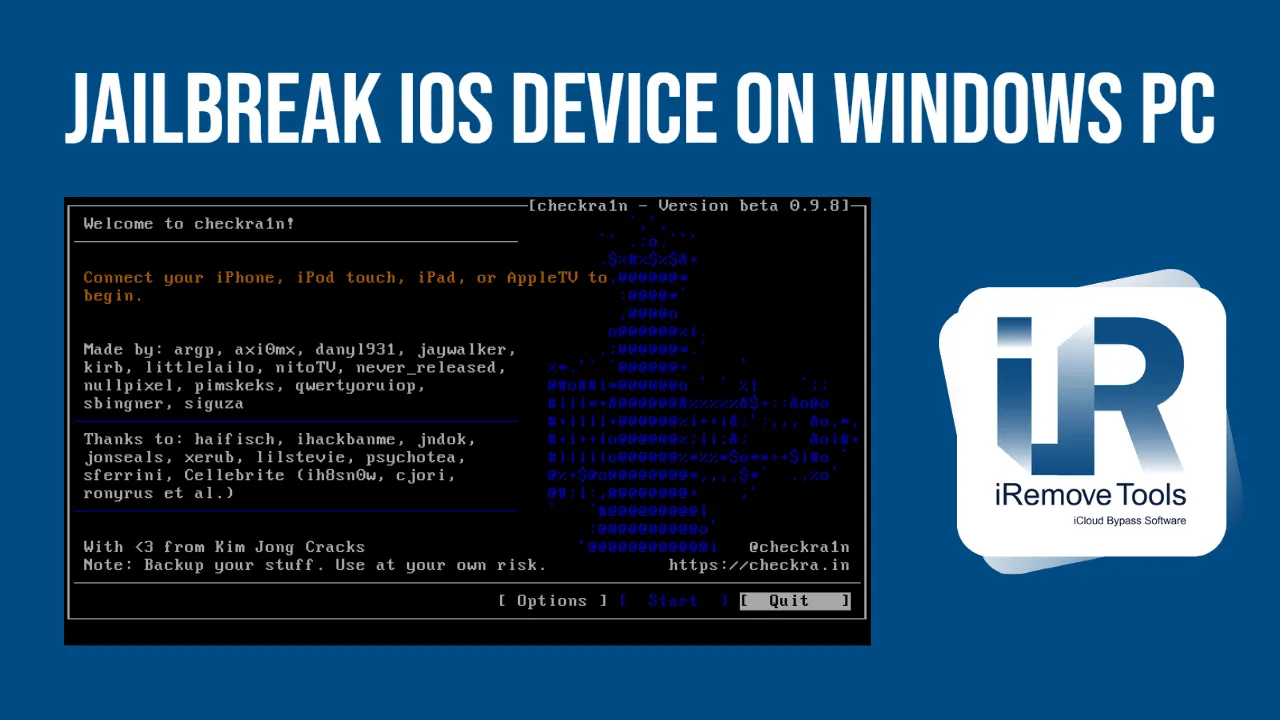 iOS Jailbreak on Windows Using Checkn1x Tool
This guide will tell you how to use the Checkn1x tool to run Checkra1n and jailbreak iOS 12 up to 14.8.1, and bypass Activation Lock using iRemove Tools on Windows PC.
Checkn1x is the fastest and easiest way to jailbreak iPhone & iPad running iOS 12 up to 14.8.1 using your Windows PC.
What is Checkn1x? Checkn1x is a ̴ 50MB Linux ISO distribution with preinstalled Checkra1n Jailbreak. We want to remind you that this approach does not involve your PC's hard drive. All actions are taken on a flash drive with Checkn1x installed on it. This tool excludes any file loss on your PC.
What you need:
Windows PC with 64-bit Intel or AMD processor;
USB flash drive with 256 MB, or more capacity;
Donwload Checkn1x and BalenaEtcher (Flash OS images to USB drives software.)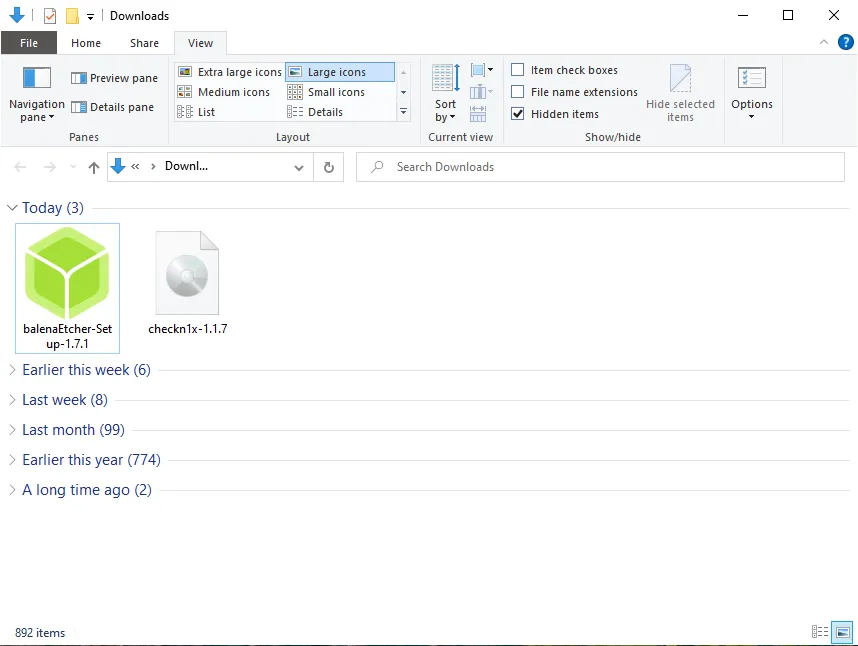 iOS Jailbreak Step-by-Step Guide Using Checkn1x Tool
This guide will tell you how to use the Checkn1x tool to run Checkra1n and jailbreak iOS 12 up to 14.8.1, and bypass Activation Lock using iRemove Tools on Windows PC.
Install BalenaEtcher Software and launch the program.

Select the 'checkn1x.iso' file from the downloaded folder and insert the USB flash drive to deploy the ISO file. Expand the ISO to the USB flash drive.

Reboot your Windows PC and enter the Boot Menu. Standard keys for accessing the Boot Menu are ESC, F2, F10, or F12, depending on your computer or motherboard manufacturer. The specific key to press is usually specified on the computer's startup screen. If you don't know how to enter the boot menu on your PC or laptop, try to search for your device's brand and model in Google.
Select the boot from the flash drive. After the boot, you will be taken to Checkra1n's GUI.

Attention! Use USB-Lightning cable only! USB Type-C Lightning cable won't work!

Select Options.

Check 'Allow untested iOS versions' and 'Skip A11 BRP check' options. Click 'Back' button.

Connect your device to the PC, click 'Start'.

Checkra1n will notify you of the need to put your device into recovery mode. Click 'Next' to proceed. The program will do everything automatically.

After the device is put into recovery mode, Checkra1n will ask you to put your device into DFU mode. Do it by following the on-screen instructions, or read our how-to set DFU mode instructionsand then click 'Start'.

After the device is put into DFU mode, do not turn it off and wait until the process is completed. You'll see the 'All Done' message if everything works out.
Congratulations! Your device has been jailbroken! Now you need to restart your computer and wait for Windows to boot.
Bypass Activation Lock Screen on Windows via iRemove
You are ready to bypass the Activation Lock Screen on your Windows PC using iRemove Tools. Please follow the guide below to complete the process.
Install the iRemove tool. Note! Before installing the software, please ensure that no extra software blocks the iRemove tool! Disable your antivirus and any other software that might be blocking internet traffic.
Run the iRemove Tools. The software will automatically check your device.

If your device is supported, you will be redirected to the checkout page.

If your device is not supports iCloud Activation Lock Bypass, you will get the following message:

We must note that the most recent Security upgrade hurts some devices, including Blacklisted, SIM locked, Country unlocked with 'Next Tether Policy'. It is why the iRemove software has to check your iPhone or iPad for compatibility before the bypass! Suppose, while checking your device, the tool finds any of the restrictions mentioned above. Then, you will see the message that your mobile gadget is unsupported by the service with SIGNAL:

Make the payment. After your payment is cleared, your IMEI or serial number will be added to the iRemove Tools Database. You can immediately use the software. The license is provided for only one locked device, which IMEI or a serial number is recorded in the iRemove Database.

Bypass iCloud Activation Lock. Reconnect your device and click the 'Bypass' button. Please wait until your device reboots. The program will notify you that the iCloud Activation Lock screen bypass has been completed successfully!
After the Activation Lock screen bypass is completed on iPhone or iPad, you will have your device fully functional. You can use your Apple ID on it, install apps from the App Store, make and receive calls, enjoy internet surfing, and have no other restrictions.
iPhone & iPad Unlock Software