iOS 16 iCloud Activation Lock Bypass
You are one click away from removing many restrictions from your iPhone and iPad. The release of iOS 16 bypass makes it easy to bypass iCloud Activation Lock on compatible Apple devices. The latest software update comes with all unique features and returns the signal to gadgets, supporting both Windows PC and Mac computers.
The newest iRemove release helps iOS 16 users to bring back all their device features and functions. All this happens remotely and efficiently with no special knowledge on your end.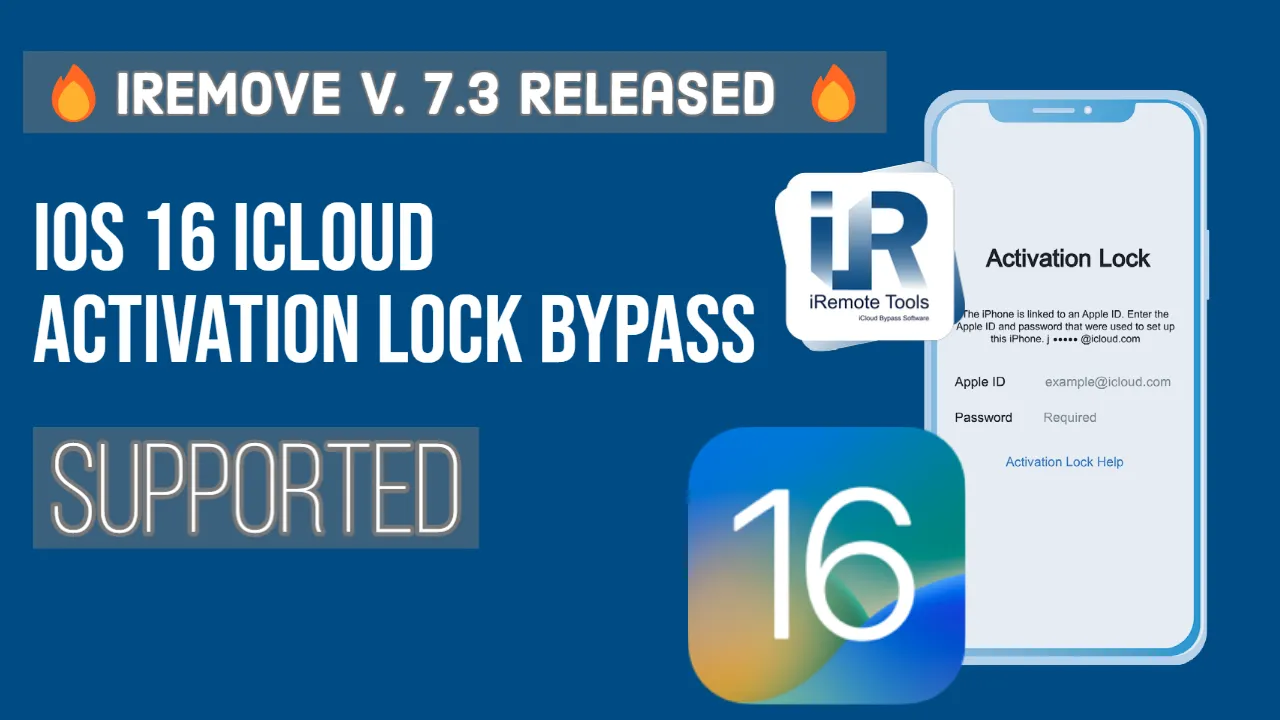 Glossary
Benefits of bypassing iCloud in iOS 16
Apple releases trendy gadgets, and millions wish to own an iPad or iPhone. Still, not everyone is willing to pay the full price, choosing a second-hand device over a new one. But used smartphones can come with iCloud Activation Lock, and if yours is running iOS 16 and is locked, you can finally remove this restriction.
After bypassing the iOS 16 iCloud Activation Lock, you can use the device as if new. For example:
It will let you update applications (remove and install new apps and games);
You can connect to a WiFi network and use the internet;
You will have a mobile signal and connect to mobile internet and service, place phone calls, and answer them;
You can text message anyone;
The iPhone or iPad functions without issues.
Such a bypass is simple and super-fast. It requires only a mouse click, and there is no need to enter the Apple ID and password associated with the iCloud account on the locked iOS 16 iPhone & iPad. You need no special knowledge or skills to run iRemove iOS 16 bypassing tool, and you will receive a lifetime license and be able to reuse the software if the bypass is back in the future (without paying anything extra).
The option is perfect for owners of second-hand devices and users who updated to iOS 16 by mistake and received a locked screen they managed to bypass in the past.
How to Bypass iOS 16 Activation Lock and Get a Signal
The tool can run on Windows or Macs (if your computer supports macOS 10.11 or later OS). On your end, you need to have a locked iOS 16 phone or tablet and a computer to which your mobile device is connected.
These are the quick bypassing instructions:
Step 1. Download and install iRemove iCloud Activation Lock Bypass Software for iOS 16 firmware. Connect your locked mobile gadget to a computer and run the software. It will ensure the locked device can be bypassed.
Step 2. Order the service after the successful check of your eligibility. Pay, and together with your order, you will get a lifetime license (one per device) for reusing iRemove Tools on the same gadget in the future.
Step 3. Press 'Bypass' to begin removing limitations from your iPhone or iPad. You don't have to enter Apple ID or passcode. The software requires no skills from you. It completes the bypass and lets you know about success.
***
Right after iOS 16 iCloud Activation Lock bypass with iRemove, you can call your friends, text them, find new games or apps on App Store, surf the Internet, and do much more.
iPhone & iPad Unlock Software