MDM Unlock Tool for Macbook [Permanent Solution]
iRemove Tools
Unlock MDM on MacBook Pro & Air computers powered by T2 chip via iRemove Tools.
Please note that this is a permanent MDM lock removal solution. By using this service, the macOS device's MDM lock is removed at the hardware level. The iRemove Software supports MDM Unlock on any MacBook computer equipped with the T2 security chip only. Any macOS versions is supports.
Supported Mac Models:

MacBook Pro
MacBook Air
Mac Mini
Mac Pro
iMac
iMac Pro
What's the difference between MDM lock Bypass and Permanent MDM Unlock?
As you may know, the MDM lock can be removed using the following two methods: Bypass or Unlock. So what's the difference between these methods?
Bypass the MDM Lock on MacBook
Use simple words: MDM bypass is the method that can remove the MDM lock on the software level. After bypassing the MDM lock on Mac computers, the device will skip the MDM lock activation process and prevent macOS from downloading and applying the MDM profile to the device.
This method requires some technical knowledge and supports macOS versions up to Monterey. If your device has been running on macOS Ventura or a newer version, you will need to downgrade to the Monterey version and go through the MDM bypass process. But this method has a privilege – you can bypass MDM on both Apple T2 and M1 MacBook models.
The iRemove Software supports this method and provides an MDM bypass tool for macOS.
Unlock the MDM Lock on MacBook
MDM unlock is not the same as bypass!
Using the MDM unlock method, your Mac computer will remove Mobile Device Management (MDM) lock at the hardware level. In other words, you will get a totally clean device. You can install any macOS version and use your device without any restrictions.
Keep in mind that the MDM Unlock method is specifically compatible with Mac devices featuring the Apple T2 Security Chip (INTEL BASED). If you're looking to permanently eliminate the MDM lock from your MacBook Pro or Air, the iRemove tool featured on this page is your solution.
MDM Unlock Service Prices
Review the pricing plans for MDM unlock services for MacBook devices.
Pricing
Models List
CPU
PRICING
MacBook Pro
Apple T2 (Intel)
$79.99
MacBook Air
Apple T2 (Intel)
$79.99
Mac Mini
Apple T2 (Intel)
$79.99
iMac
Apple T2 (Intel)
$79.99
iMac Pro
Apple T2 (Intel)
$79.99
Mac Pro
Apple T2 (Intel)
$79 .99
Initiate the MDM Unlock process using iRemove Software
The MDM unlock process is super easy! Thanks to iRemove Software, you can permanently unlock MDM-locked Macs with just one click without terminal or tech knowledge. Here's how you can permanently remove MDM from your MacBook: Just follow these easy steps.
Make sure to deactivate Find My Mac
Attention! Before placing an order to unlock the MDM service, it's important to verify the Find My Mac status of your MacBook - use FMM online checker. If the Find My Mac (FMM) options are enabled, you should disable them.
Before you proceed with the instructions below to unlock the Mac MDM lock, ensure you have these three things:
MDM Locked Mac with T2 chip;
A fully workable Mac computer;
Cable for connecting two Mac computers (USB type C - USB type C).
ATTENTION
If you plan to restore your Mac later on, ensure that the 'Find My Mac' feature is switched OFF prior to the restore. If not, you might encounter a MacOS Activation error. If this happens, use the iRemove MDM unlock tool. Connect your Mac device and select the option to restore original data. Then, click the start button. Once the process is complete, you can restore your device.
Download & Install iRemove MAC MDM Unlock Tool
Now, let's examine the process of permanently unlocking the MDM lock and gaining access to a MacBook using the iRemove Tool. Before you begin the MDM unlock process, make sure to back up your data using an external drive if necessary!
First, download and install the iRemove MDM Unlock Tool on your Mac computer. Then, open the program and click the 'Start' button. The software will check if your device can work with it.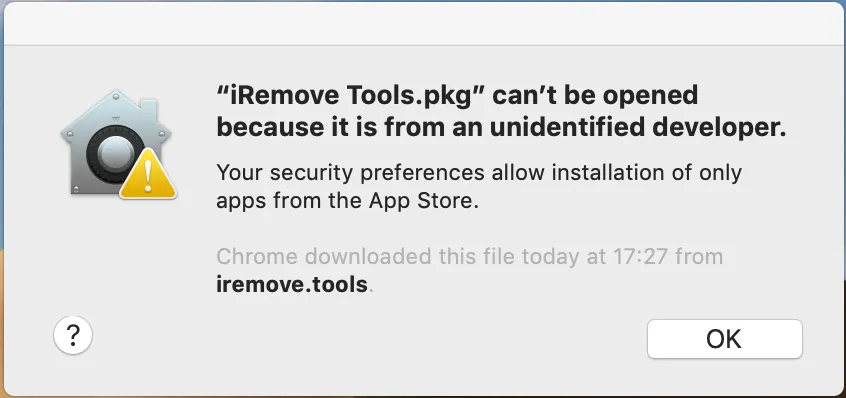 'iRemove Tools.pkg' can't be opened
If you try to open an app that isn't registered with Apple by an identified developer, you get a warning dialog. It doesn't necessarily mean that something is wrong with the app. Use the official Apple Guide to open a Mac app from an unidentified developer to run the iRemove Tool on your device.
Start software Installation

Allow the software installation

Complete the software installation
To start the iRemove software, click on its icon or find it in the Dock and click the Launchpad icon. If you use Launchpad, look for the iRemove Software icon. The great thing about the iRemove software is how easy and clear it is to use. After it's installed, you'll be able to permanently unlock the MDM and remove profile in just a minute.
Verify if MDM Unlock is possible.
Connect the two computers via the cable and type C port. The USB-C cable must support both power and data. The iRemove MDM Unlock tool will show you a list, from which you should select the computer model which requires bypass and and ways to connect them correctly.
Follow the on-screen guide to place the Mac with MDM Lock into DFU mode. There is also an instruction for putting Mac into DFU mode you can use instead.
Prepare the Apple MacBook Pro & Air for Unlock MDM
Press the power button.

While holding down the power button, at the same time press all three of the following keys for about 10 seconds:

The right Shift key;
The left Option key;
The left Control key;
After 10 seconds, immediately release the three keys but continue to hold down the power button until it appears in iRemove Software.
Note: You won't see any screen activity from the Apple notebook computer. The software will detect your device if you correctly put it into DFU mode.
If your Mac is supported, you'll be taken to an order page where your device's serial number will be added to the program's database. Then, you can use the tool to unlock MDM remote management from your macOS device.
If you see a message that says your device is not supported, you can try the MDM Bypass service, which could be useful for you.
Order iRemove MDM Unlock Software Licence
To get started, place your order and make the payment. We accept Visa, MasterCard, and American Express credit cards, as well as Cryptocurrency and Z3X credits. Once your payment goes through, your device's Serial Number will be permanently added to the iRemove Software Database. You can use the software immediately to permanently unlock MDM and remove remote management from your Mac.
You'll receive a lifetime license for a single locked device, and its serial number will be saved in the iRemove Database.
Run MDM Unlock process with iRemove Software.
Once you've added your device's serial number to the software database successfully, just click 'Start'. Give it a little time, and the program will display the info about successfully unlock Device Management.
Your macOS device is now free from Remote Management and corporate supervision control. Any MDM restriction is turned off on your Mac, and it is fully functioning.
6. To finish, just do these steps:
Restore Mac and Reinstall MacOS. Use official guide how to restore MacOS on Macbook
Set up your Mac. You can utilize all of its features, including Find My Mac.
ATTENTION
If you plan to restore your Mac later on, ensure that the 'Find My Mac' feature is switched OFF prior to the restore. If not, you might encounter a MacOS Activation error. If this happens, use the iRemove MDM unlock tool. Connect your Mac device and select the option to restore original data. Then, click the start button. Once the process is complete, you can restore your device.
iRemove Software Partnership
Wholesalers and small business owners will love the benefits our partnership offers. You can become our partner if you have a GSM store, workshop, or other business. The iRemove Partnership Program supports GSM Fusion, DHRU, and other popular GSM services. We use API connections for connecting reseller websites to the services we offer. We have also developed a client system for quick access to all services.
Become an iRemove Affiliate
Do you have a tech blog? Are you running a YouTube channel or Instagram account? Join the iRemove Affiliate Program to earn extra money and enjoy passive income. You can offer Mac users the iRemove unlock and bypass services and benefit from being our affiliate. If you wish to start earning extra money today, please send us your Affiliate Request.
Join Affiliate Program