Remove Device Management from MacBook Pro & Air (M1 & T2)
iRemove Tools
Remove Remote Device Management and Bypass MDM Enrollment profile on MacBook Pro & Air and other Mac computers powered by M1 & T2 chip via iRemove Tools.
After removing the MDM Enrollment profile, you can use your Mac computer with no restrictions! Remove corporate supervision control without the MDM key just with one click.
Important! Before starting the MDM removal process, the Find My Mac options must be disabled on a Mac locked with an MDM profile.
Supported Mac Models:

MacBook Pro
MacBook Air
Mac Mini
Mac Pro
iMac
iMac Pro
MacOS MDM Bypass Service Prices
Check our pricing plans for the macOS MDM Bypass service.
Pricing
Models List
CPU
PRICING
MacBook Pro
Apple M1 & T2 (Intel)
$29.99
MacBook Air
Apple M1 & T2 (Intel)
$29.99
Mac Mini
Apple M1 & T2 (Intel)
$29.99
iMac
Apple M1 & T2 (Intel)
$29.99
iMac Pro
Apple M1 & T2 (Intel)
$29.99
Mac Pro
Apple M1 & T2 (Intel)
$29.99
How to Remove Device Management from Apple MacBook Pro & Air Using iRemove Software?
The iRemove Software can remove an MDM enrollment profile from Macbook Pro, Air, or other models of macOS computers powered by M1 & T2 CPU without entering an MDM key, user name, or any password. Also, you don't need to have any additional knowledge or equipment to start using the MDM Bypass Tool. The software supports the latest versions of macOS Monterey and Big Sur.
Prepare a locked MDM macOS computer for device management removal and MDM profile bypass
Attention! Before starting the MDM bypass process, please back up your data using an external drive if needed.
To remove an MDM enrollment profile from a macOS computer and disable device enrollment using iRemove Software, follow these steps:
Start your MacBook or another macOS computer in Recovery Mode.

M1 silicon CPU: Turn on your Mac and continue to press and hold the power button until you see the startup options window.
Intel CPU: Press and hold the Command (⌘)-R: keys right after pressing the power button to turn on your Mac or restart it. Hold down the keys until you get the desired result.

Erase and reformat a storage device in Disk Utility on Mac. Follow the official guide here: https://support.apple.com/en-gb/guide/disk-utility/dskutl14079/mac
Once the erasing process is complete, start reinstalling macOS. Follow this guide: https://support.apple.com/en-us/HT204904
During macOS installation, your Mac will restart with the Apple logo, including the bottom of the progress bar. Please turn off the router! This step is essential because you need to prevent your Mac from auto-connecting to the Internet beforehand. Wait until the installation process is complete.
After completing the macOS installation process, complete the device setup without connecting to Wi-Fi. How to do it? At the 'Select a Wi-Fi network' step, click the 'Other network settings' link and select the 'My Mac computer does not connect to the Internet' option. Finish setup.
The last significant step is to disable SIP options on your macOS device. How to do it? Start your Mac in Recovery Mode (please complete the first step).
At the 'MacOS Utilities' screen, pull down the 'Utilities' menu from the top of the screen. Choose 'Terminal' to launch the Terminal app within Recovery Mode. Enter command:

-bash-3.2# csrutil disable

Successfully disabled System Integrity Protection. Please restart the machine for the changes to take effect.

-bash-3.2# reboot
After running the Command in the Terminal, your device will automatically reboot.
Download & Install iRemove MAC MDM Bypass Tool
Now you are ready to install the iRemove MDM removal tool and remove Device Management from a Mac device.
Download and install iRemove MDM Removal Tool on your Mac computer. Run the program and click the 'Start' button. The software will check the compatibility of the device. Wait for the process to complete.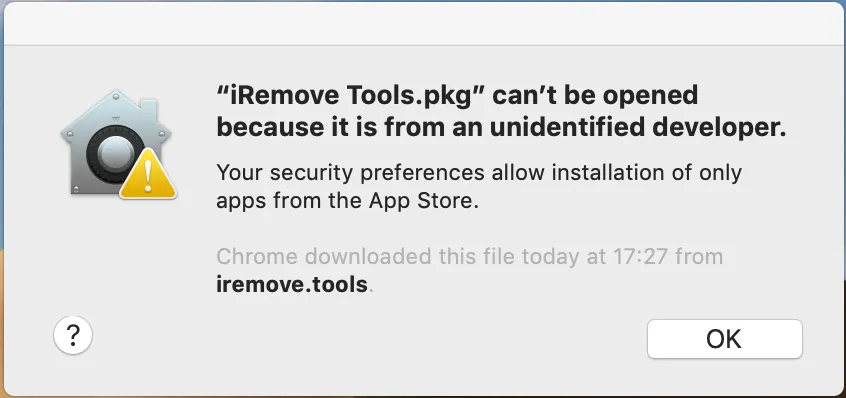 'iRemove Tools.pkg' can't be opened
If you try to open an app that isn't registered with Apple by an identified developer, you get a warning dialog. It doesn't necessarily mean that something is wrong with the app. Use the official Apple Guide to open a Mac app from an unidentified developer to run the iRemove Tool on your device.
Start software Installation

Allow the software installation

Complete the software installation
To open the iRemove software, you should click on its icon or Launchpad icon in the Dock. If you choose the Launchpad option, click the iRemove Software icon. The main advantage of the iRemove software is its simplicity and clearness. Once the installation is complete, you will bypass the MDM profile in a minute.
Check Mac MDM Profile Bypass Possibility
Run the program and click the 'Start' button. The software will check the compatibility of the device. Wait for the process to complete. If your gadget is supported, you will be redirected to the order service page, where your device's serial number will be added to the program's database. After that, you can use the tool to remove remote management from your macOS device.
In case of an unsuccessful check, the program will inform you and show you precisely what you need to fix to skip the process successfully.
Order iRemove Mac MDM Bypass Software Licence
Place your order and make payment. We accept the following payment cards: Visa, MasterCard and American Express, Cryptocurrency, and Z3X credits. Once your payment is cleared, your device's Serial Number will permanently be added to the iRemove Software Database. You can use the software right away to bypass MDM Profile and remove remote management from your Mac.
A lifetime license is provided for only one locked device, which serial number is recorded in the iRemove Database. You can reuse the iRemove software on your device free of charge after a factory reset!
Run macOS MDM Bypass process with iRemove Software
After successfully adding the device's serial number to the software database, you can click 'Start'. Wait for a few moments till the program shows you the information about successfully removing Device Management from the device and bypassing the MDM enrollment profile.
Your macOS device is now free from Remote Management and corporate supervision control. Any MDM restriction is turned off on your Mac, and it is fully functioning.
iRemove Software Partnership
Wholesalers and small business owners will love the benefits our partnership offers. You can become our partner if you have a GSM store, workshop, or other business. The iRemove Partnership Program supports GSM Fusion, DHRU, and other popular GSM services. We use API connections for connecting reseller websites to the services we offer. We have also developed a client system for quick access to all services.
Become an iRemove Affiliate
Do you have a tech blog? Are you running a YouTube channel or Instagram account? Join the iRemove Affiliate Program to earn extra money and enjoy passive income. You can offer Mac users the iRemove unlock and bypass services and benefit from being our affiliate. If you wish to start earning extra money today, please send us your Affiliate Request.
Join Affiliate Program