Apple ID Removal Tool
iRemove Tools
Prepare to remove Apple ID from iCloud Settings and permanently unlock your iPhone or iPad with iRemove Tools. The user-friendly software will turn off Find My feature without the previous owner's password. With a reliable iRemove Apple ID Removal Tool, you can fix everything with just one click!
The Apple ID Removal Tool requires access to your device settings. Also, you must jailbreak the compatible iPhone or iPad before you can remove the old Apple ID account from it. Please see the list of all compatible iPhone and iPad models, and remember that as soon as you remove the Apple ID, your device will be permanently unlocked!
Supported iPhones Models running from iOS 14.6 and up to 14.8:

iPhone 12 (Mini, Pro, Max)
iPhone 11 (Pro, Max) & SE 2
iPhone XS \ XS \ XR

Supported iPhones Models running from iOS 12 and up to 14.8.1

iPhone X
iPhone 8 \ 8 Plus
iPhone 7 \ 7 Plus
iPhone 6S \ 6S Plus \ SE
iPhone 6 \ 6 Plus
iPhone 5S

Supported iPads Models:

iPad 9, iPad Air 4 running from iOS 14.6 - 14.8;
iPad 8, iPad Mini 5, Air 3 running from iOS 14.6 - 14.8;
iPad 5 \ 6 running from iOS 12 and up to 14.8.1;
iPad Pro (2015-2017) running from iOS 12 and up to 14.8.1;
iPad Air, iPad Mini 2,3 running up to iOS 12.4.9;

Important Detail:
Prices for Removing Apple ID from iPhone and iPad
Remove Apple ID from a supported iPhone or iPad and instantly unlock the models listed above. You can enjoy using all the iOS features and device functions right after your device is permanently unlocked!
Pricing
Models List
A-Models
Price
iPhone 12 Pro Max
A2342, A2410,A2412, A2411
$65.99
iPhone 12 Pro
A2341, A2406, A2408, A2407
$65.99
iPhone 12
A2172, A2402, A2404, A2403
$65.99
iPhone 12 Mini
A2176, A2398, A2400, A2399
$65.99
iPhone SE (2nd generation)
A2275, A2298, A2296
$65.99
iPhone 11 Pro
A2160, A2217, A2215
$65.99
iPhone 11 Pro Max
A2161, A2220, A2218
$65.99
iPhone 11
A2111, A2223, A2221
$65.99
iPhone XS
A1920, A2097, A2098, A2099, A2100
$65.99
iPhone XS Max
A1921, A2101, A2102, A2103, A2104
$65.99
iPhone XR
A1984, A2105, A2106, A2107, A2108
$65.99
iPhone X
A1907, A1902, A1865, A1901
$55.99
iPhone 8 Plus
A1864, A1898, A1899, A1897
$55.99
iPhone 8
A1905, A1863, A1906, A1907
$55.99
iPhone 7 Plus
A1784, A1661, A1785, A1786
$45.99
iPhone 7
A1778, A1660, A1779, A1780
$45.99
iPhone 6S Plus
A1699, A1690, A1687, A1634
$35.99
iPhone 6S
A1633, A1688, A1691, A1700
$35.99
iPhone SE
A1724, A1723, A1662
$35.99
iPhone 6 Plus
A1522, A1524, A1593
$31.99
iPhone 6
A1589, A1586, A1549
$31.99
iPhone 5S
A1457, A1518, A1528, A1530, A1453, A1533, A1428
$24.99
iPad
until 2017
$24.99
iPad
from 2017
$45.99
How to Remove Apple ID on Supported iPhone or iPad?
Below you will find a step-by-step manual to permanently remove Apple ID from your iPhone or iPad with iRemove software.
Download & Install iRemove Apple ID Removal Tool
You can easily remove an Apple ID from iPhones and iPads with access to the device Settings using the iRemove program.
Guide for macOS Users
Start with getting the iRemove Apple ID Removal Tool and installing it on your Mac. After you download it, launch the software using a right-mouse or touchpad-click on the application icon. Then do the left-button click and select 'Open'.
You can only install the app if you grant it full permission on your computer. In many cases, it is best to turn off your FileVault to prevent any problems with running the software.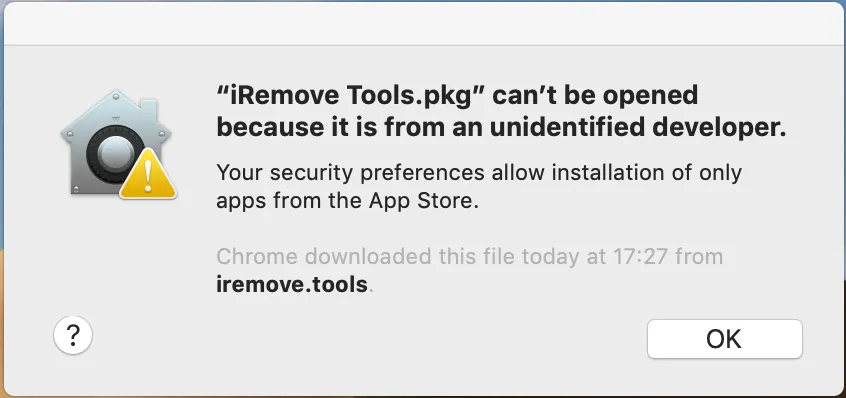 Why can't I open the 'iRemove Tools.apk' file?
Apple protects every user from opening applications not registered with the company. Usually, such apps come from unidentified developers, and your Mac warns you about it when you try to launch the software. However, these applications can be practical and very helpful. So, how can you open them?
Read the Apple Guide on how to Open a Mac app from an unidentified developer and you will smoothly run the iRemove Tool on your computer.
Open the Apple ID removal tool

Permit your Mac to install the software

Wait for the tool to be installed
Open the iRemove tool by clicking the app icon or visit Dock - Launchpad and then press the iRemove Apple ID Removal logotype.
Guide for Windows users
Download iRemove Apple ID Removal Tool for Windows and start the installation process. Unzip the downloaded package and compleat installation.
Make sure iRemove can remove Apple ID on a locked iPhone or iPad
Every iPhone or iPad must be prepared for the remote Apple ID procedure:
You need a USB cable. Use it to connect your locked device to Mac or Windows PC. The software will ask you to type the password if it sees that your gadget comes with a passcode lock feature. If you cannot type the correct password, the iRemove tool won't verify your device.
Please wait for the tool to check your locked device to ensure it is jailbroken. If it is not jailbroken, you will be asked to jailbreak it to remove the Apple ID. Owners of the iPhone (5S through X) and iPad (Pro, Mini, Air) can use the Checkra1n Jailbreak built into the macOS version of iRemove. When you see the 'Run Checkra1n Jailbreak' option, click it. You will see an on-screen guide. Follow it to jailbreak the smartphone, and then the iRemove software will run an automatic check of your iPhone/iPad.
Users who have downloaded the iRemove Apple ID Removal tool for Windows PC should jailbreak their iPhone/iPad and prepare it for Apple ID removing themselves. Please follow the simple iOS Jailbreak Guide for Windows computers. And once you are jailbroken, reconnect your smartphone and let the iRemove tool detect your device again and perform the distant verification process.
Notice! Those who would like to remove Apple ID from their iPhone XS \ XR, 11, 12, and iPad (Pro, Mini, Air)must use Unc0ver Jailbreak. The detailed Unc0ver Jailbreak Instructions will help you prepare the handset/tablet for Apple ID removal.
Only jailbroken devices that are supported by the software can use the iRemove Apple ID removal service.
Get the license for using iRemove Apple ID Removal software
It is comfortable to order the iRemove Apple ID removal service because you can pay using different payment methods. For example, the company accepts Mastercard, Visa, American Express cards, Z3X credits, and Cryptocurrency.
As the payment is made, your locked device's IMEI or Serial number gets permanently listed in the iRemove Software Database. You can run the tool to remove Apple ID and permanently unlock your device from this moment.
Please keep in mind that this remote Apple ID removal service disables the Find My app as it permanently unlocks your device.
Remove Apple ID using iRemove software
Once again, you must prepare your iPhone or iPad to use the software. Enable your Airplane Mode, remove the SIM card, or disconnect the Internet (WiFi) on your device.
Press 'Start', and the software will begin to remove Apple ID from your gadget!
And as soon as the Apple ID removal is done, your iPhone/iPad should automatically reset to factory settings. Sometimes, this last step can freeze. But you can fix the situation by hard resetting your device manually. Learn how you can force reset the iPhone or iPad.
iRemove Software Partnership
Wholesalers and small business owners will love the benefits our partnership offers. You can become our partner if you have a GSM store, workshop, or other business. The iRemove Partnership Program supports GSM Fusion, DHRU, and other popular GSM services. We use API connections for connecting reseller websites to the services we offer. We have also developed a client system for quick access to all services.
Become an iRemove Affiliate
Do you have a tech blog? Are you running a YouTube channel or Instagram account? Join the iRemove Affiliate Program to earn extra money and enjoy passive income. You can offer Mac users the iRemove unlock and bypass services and benefit from being our affiliate. If you wish to start earning extra money today, please send us your Affiliate Request.
Join Affiliate Program