Four Ways to Remove iCloud Activation Lock on iPhone or iPad Without Apple ID or Password
Check out 4 ways to Remove iCloud Activation Lock on iPhone or iPad without a previous owner Apple ID and iCloud account password that's still valid in 2022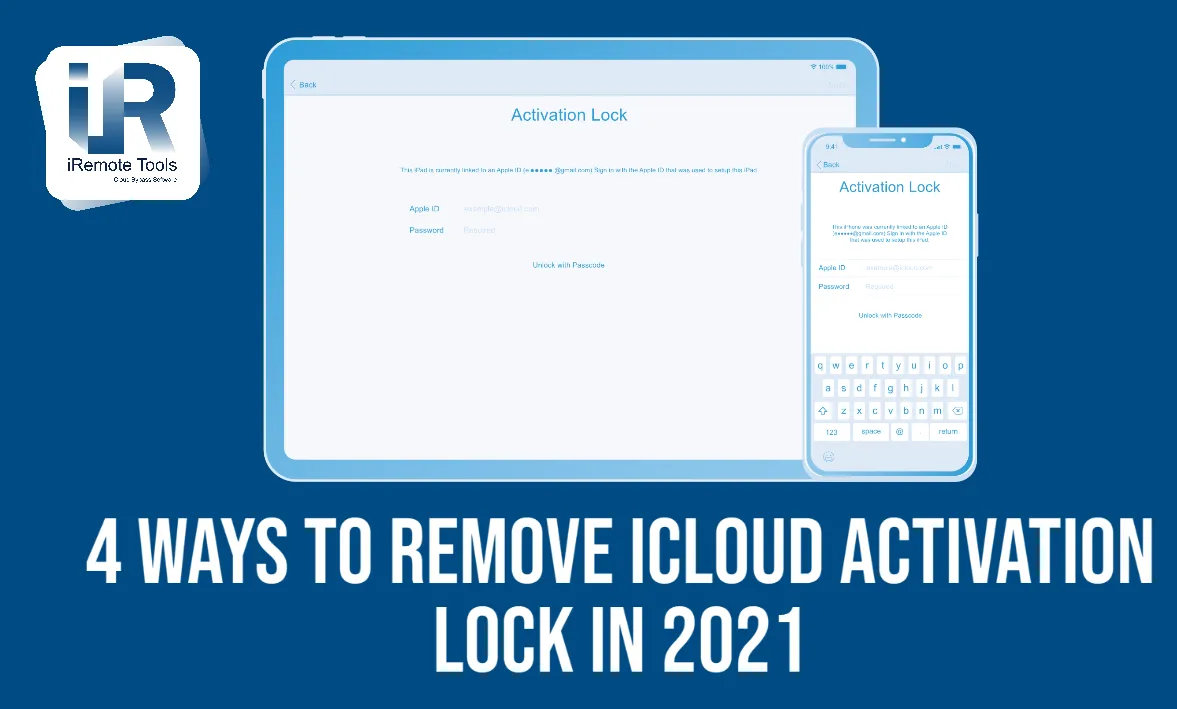 Glossary
What Is iCloud Activation Lock?
Every Apple user knows well what Activation Lock is. The company introduced this feature on iOS devices years ago, with the iOS 7 release, to help iPhone and iPad users protect their gadgets from unauthorized access.
Activation Lock turns on automatically on all iOS devices linked to an iCloud account and with enabled Find My. It requires a password to get past the Activation Lock screen. Without this step, it is impossible to restore or delete data on a locked device.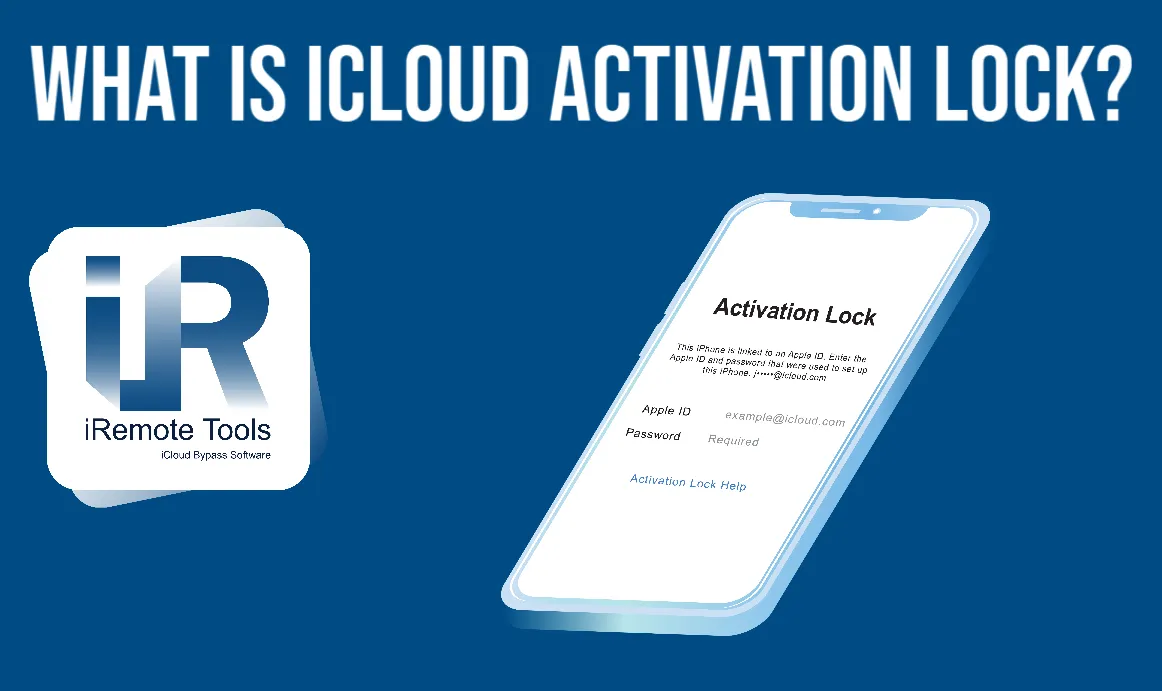 With Activation Lock being on, no one can access a lost, stolen, or used iPhone or iPad. No workaround is available at the moment.
For example, if you find a lost Apple device or buy a used gadget from another user, you will have to contact the owner. The original owner's Apple ID and password are required for iPhone or iPad unlock. And before reselling a used iPhone or iPad to someone else, you should disable Activation Lock. Otherwise, the new owner will face this problem and contact you for a refund. And if there is no refund, a user will end up with a non-working device.
Whether you are about to resell your iPhone, have already purchased a used gadget, found an old device, you should check if Find My is on or off on it.
If you have a working device in your hands, go to Settings - type Find My and see if it is enabled before passing this gadget to someone else. Or, if you have a device and cannot access it, you will understand if Find My is on. With enabled Activation Lock, it is impossible to access it and use all the features. You become useless unless you know the password or a unique tool to bypass iCloud Lock on your behalf.
How to Check Activation Lock Status of Your iPhone and iPad?
Often, you are unsure if the iPhone or iPad has Activation Lock enabled or need to check a device you plan to purchase but don't have in your hands. Well, you can learn all details remotely.
Way #1. You have access to the iPhone or iPad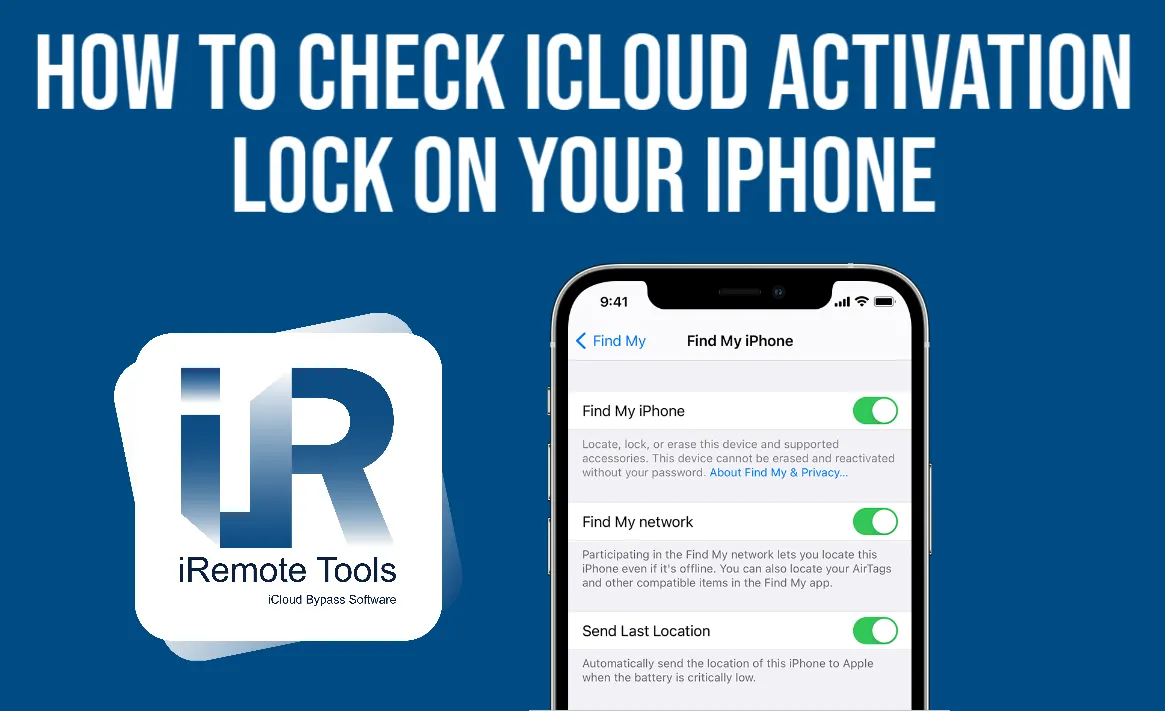 You already know how to check iCloud Activation Lock on your iPhone if it is in hand:
On a device, launch Settings from your iPhone or iPad Home screen.
You will see different options, including 'iCloud', which you should click now.
There will be a list of options. You need to proceed with 'Find My iPhone'.
This simple check for Find My on/off status is suitable for every user who wishes to resell the Apple device. Also, you can ask a seller to live record a video of this so that you are sure the used gadget is not iCloud locked.
Way #2. You don't have access the iPhone or iPad
However, often, you need to check iCloud Activation Lock status without the iPhone or iPad in your hands. Years ago, it was possible to check Activation Lock status on the Apple icloud.com website by IMEI or serial number. But the company eliminated this option in 2017.
In 2022, you can still ensure that the iPhone or iPad is not secured with iCloud Lock remotely. The iRemove iCloud Activation Lock status checker is a free online service you can use.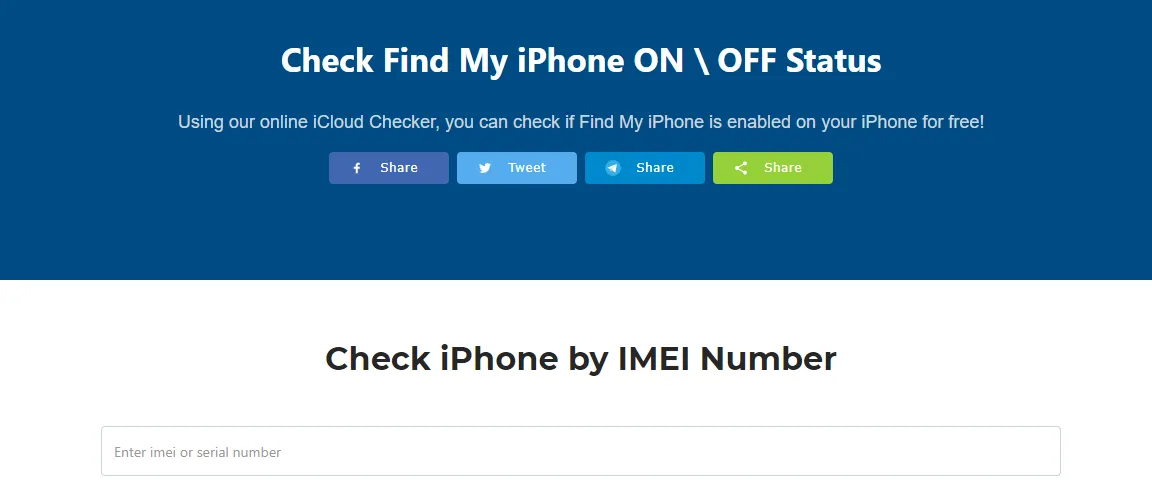 Here is how to check Activation Lock status online:
You need an IMEI number of the device you want to check.
Enter the IMEI into the form on the website.
Request the free Activation Lock checker and wait for the information. You will know for sure if Activation Lock is disabled or enabled on a checked Apple device.
Two possible responses are:
iCloud OFF - if Activation Lock is turned off on your iPhone or iPad
iCloud ON - if iCloud Activation Lock is enabled on a checked gadget
Protect yourself and ask a seller to provide you with an IMEI or serial of an iPhone or iPad. Check the gadget's Activation Lock status online with a free iRemove service. You will know the situation and decide to purchase a device or not yourself.
Not only used device could arrive with an Activation Lock problem. Some Apple users had this very same issue with their brand new gadgets, which for some reason were locked to third-party Apple ID (https://www.macrumors.com/2016/10/05/iphone-activation-lock-wrong-apple-id-issues/). The company fixed the problem and turned off Activation Lock for all affected customers with proof of purchase.
But let's say you have just used the free iCloud Lock checker and learned that your used iPhone or iPad has Activation Lock on it. Can you fix this problem yourself?
Ways to remove activation lock in 2022
An Activation Lock is a common problem for many iPhone and iPad users. Whether you purchase a used device from someone else, borrow one from a friend or find an old gadget with iCloud Lock on it, do something. It is possible to remove iCloud Activation Lock in several ways:
Use Apple ID and password to remove Activation Lock via Find My application.
Visit icloud.com website and use the original Apple ID and passcode to remove Activation Lock online.
Ask Apple to remove Activation Lock using your proof of purchase officially.
Bypass iCloud Activation Lock with iRemove software and without Apple ID/passcode.
Use Apple ID and password to remove Activation Lock via Find My application
The iCloud Activation Lock is a feature that does not enable on its own. It is a part of the Find My security, and it turns on only when you enable Find My on your iOS device.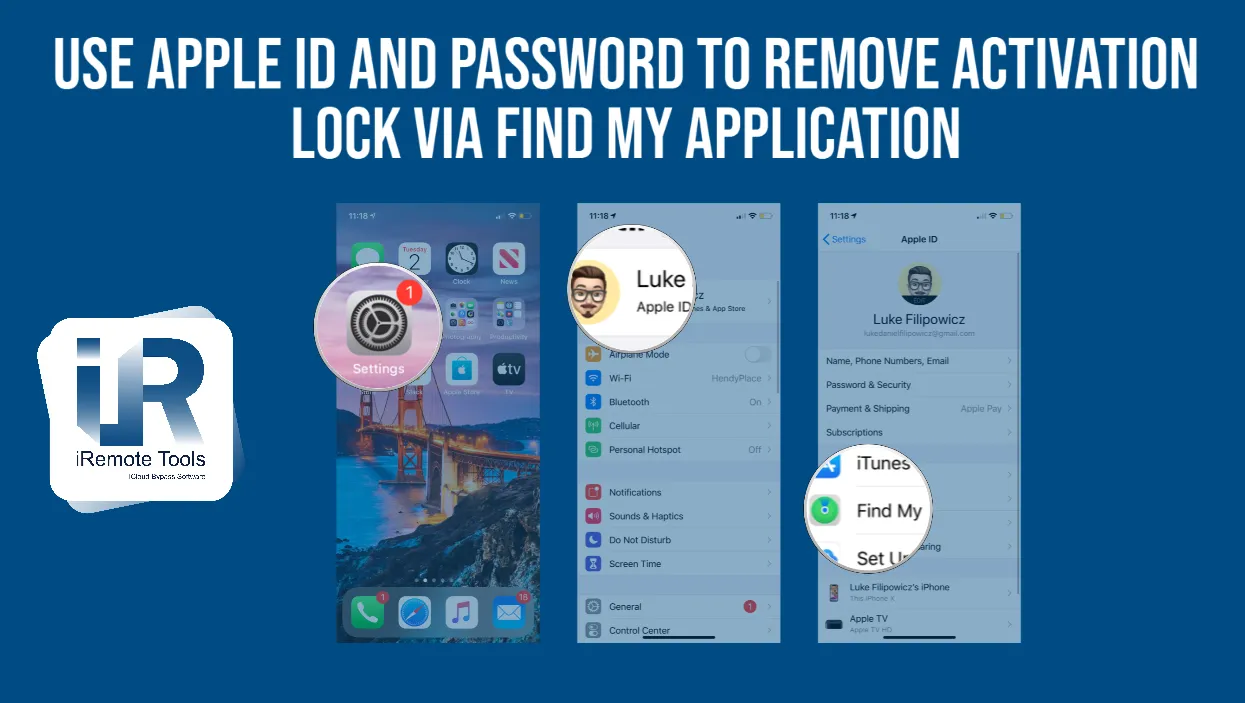 This method is the fastest, simplest, and free of charge. But it does require your Apple ID and passcode. Follow these quick guidelines to disable Find My iPhone or iPad within seconds, at no cost:
On your iDevice, go to Settings.
Click your name (it appears at the top).
Choose the iCloud option and scroll down till you see Find My.
Click Find My and disable the toggle.
Type in the Apple ID password as prompted by your gadget. Click Turn Off.
But this method can remove Activation Lock only if you have a device in your hands.
Visit icloud.com website and use the original Apple ID and passcode to remove Activation Lock online
Sometimes, you purchase a used iPhone or iPad that is locked because a previous owner forgot to turn off Find My.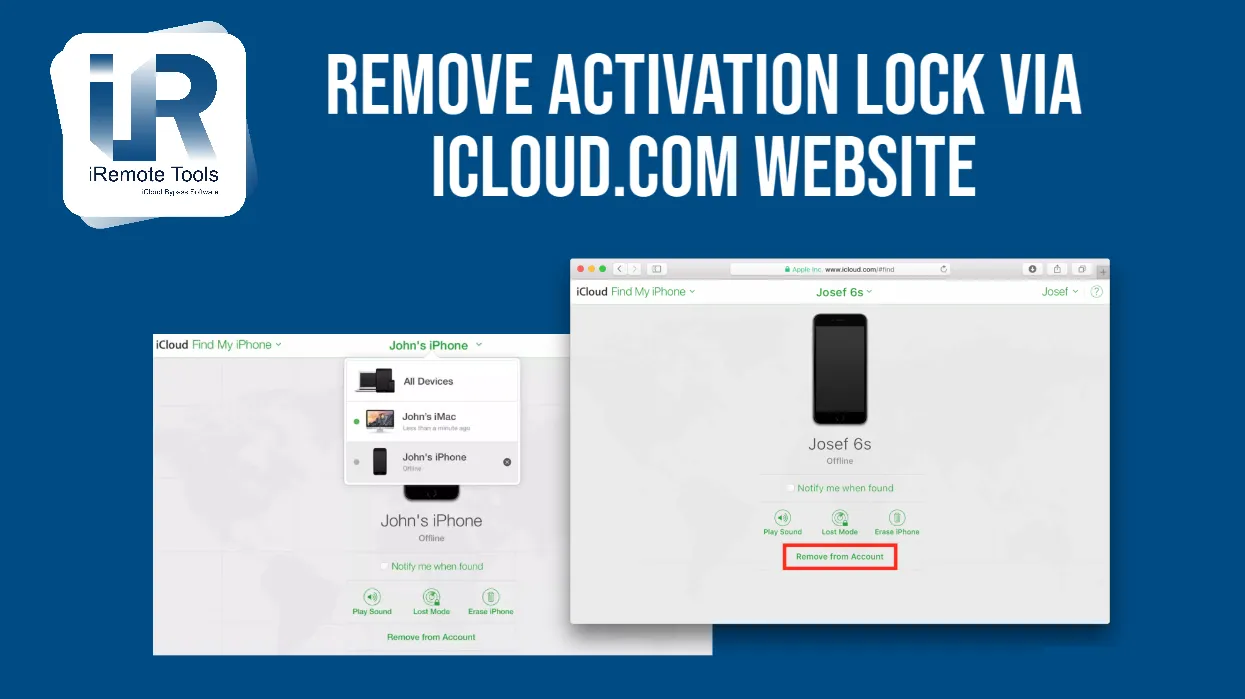 Luckily, it is possible to remove the Activation Lock remotely. But you cannot do it yourself. Only the original owner who linked the device to their iCloud account and enabled Find My can turn it off. Here is what you should do:
Ask the original owner to visit icloud.com website from a computer or mobile device and sign in to their iCloud account.
Then the owner should press the Find My icon and click All Devices.
Now it is time to select the locked gadget from the list.
The previous owner can also press Erase to remove all the data and settings from your used iPhone or iPad.
The last thing to do is press the Remove from Account option. It will turn off Find My.
Now, thank the previous owner and start using your device as if new. You can link it directly to your iCloud account and, if you wish, turn on Find My to enable Activation Lock and protect the gadget from unauthorized access.
Ask Apple Support to remove Activation Lock using your proof of purchase officially
Users who bought an iPhone from Apple and chose to keep the proof of purchase can try another method. The company usually sides with their customers and removes Activation Lock in some situations.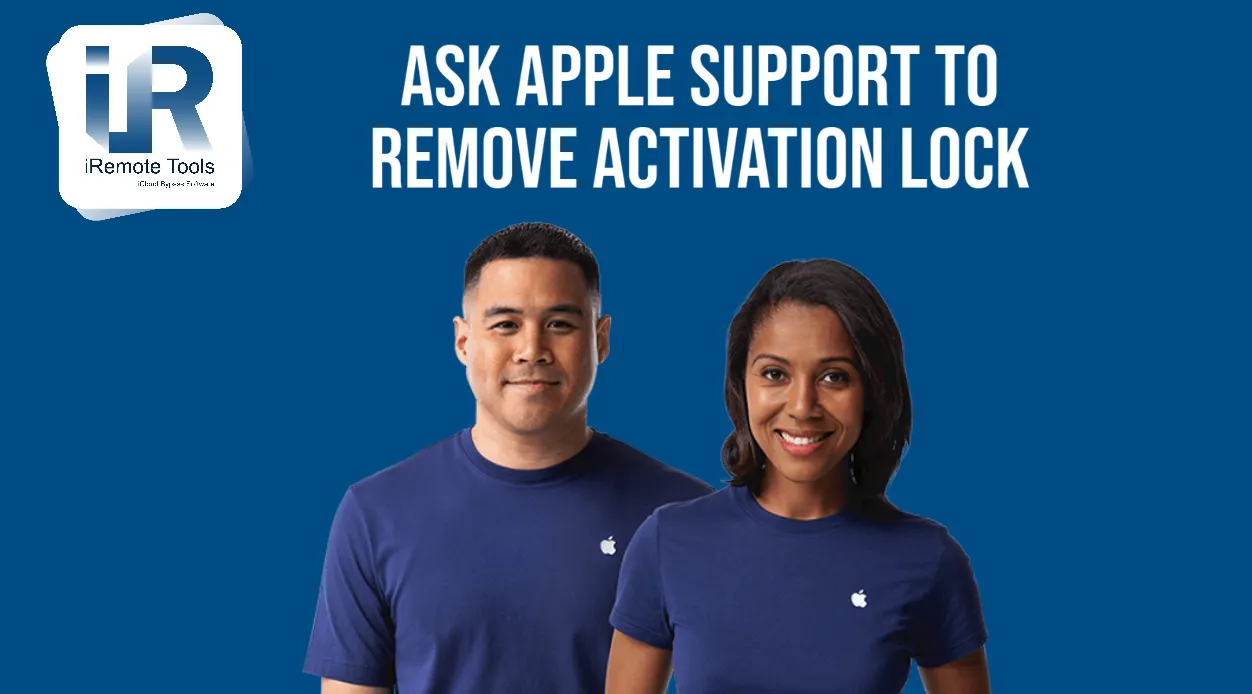 You can visit your nearby Apple Store, make a call and talk to a representative over the phone or visit Apple Support online (https://al-support.apple.com/#/kbase) requesting the Activation Lock removal. All these solutions will require proof of purchase.
Also, users believe that it is best to visit the Apple store personally with your receipt if you want to solve the problem asap.
The documents you provide must be issued by a reseller authorized by Apple. The receipt must include details about your smartphone, date of purchase, iPhone or iPad serial number, invoice number, price, etc. Otherwise, you will most likely fail.
Many customers cannot benefit from this method because the official Apple website only keeps records of your orders for 1.5 years. Those who throw their receipts after purchase, forget their Apple ID and password cannot contact the company for help.
Luckily, there is a different solution for every user who wishes their locked iPhone or iPad to work again without Apple's help. You can use the iRemove software to bypass iCloud Activation Lock on your device. And you will not need any passwords, Apple ID, or access to your iCloud account.
Bypass iCloud Activation Lock with iRemove software and without Apple ID/passcode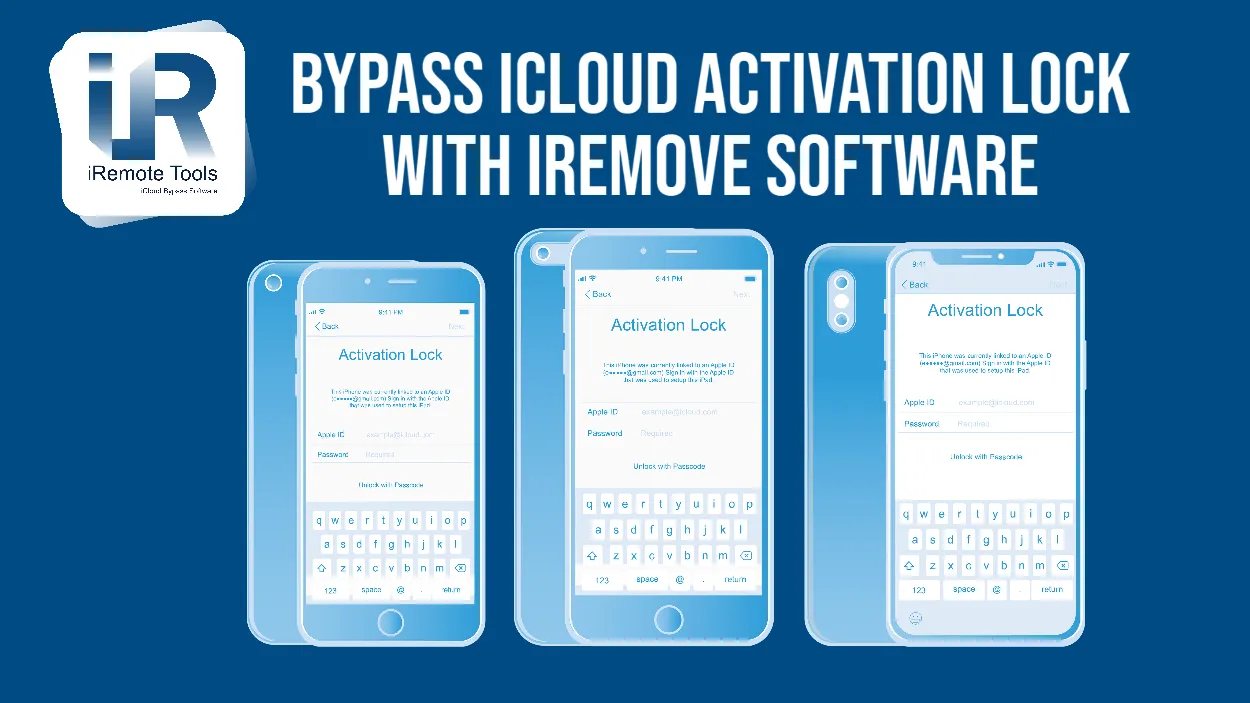 The most reliable method for eliminating the locked screen is using a trusted software such as iRemove. Learn how to remove Activation Lock on iPhone and iPad with iRemove, and you will fix any problems within minutes.
The iRemove iCloud Unlock / Bypass Tools offers software clients can download and use on their side to bypass Activation Lock. For this, they need no Apple ID/password.
The iRemove software is based on CheckM8 exploit and works on jailbroken devices. It comes with a built-in Checkra1n Jailbreak that also uses the CheckM8 exploit to remove restrictions introduced by Apple.
CheckM8 is an exploit in hardware, not software like other vulnerabilities. And this exploit is found in many iDevices, from iPhone 5S to iPhone X, iPad 2012 - 2018.
The vulnerability is in the BootROM of iDevices playing a vital role in iPhone/iPad booting process. By revising the hardware configuration, you can do real miracles and remove iCloud Activation Lock without login credentials.
You will love all these benefits the Activation Lock bypass offers:
Two-in-one solution that runs Checkra1n Jailbreak before the bypass;
Software simplicity and user-friendly on-screen guidelines;
Remote service;
No need to enter Apple ID and password;
Bypass in a single click;
Fully working iPhone or iPad after iCloud Activation Lock bypass.
These are iPhone models you can use iRemove solution on:
iPhone X, SE, 5S;
iPhone 6, 6S, 7, 8;
iPhone 8 Plus, 6 Plus, 6S Plus, 7 Plus.
Also, you can use the Activation Lock removal service on these devices (both Cellular and WiFi models):
iPad Air 1 and iPad Air 2;
iPad Mini 1, 2, 3 and 4;
iPad Pro 1 and 2 generations.
The complete list of all compatible gadgets is available here.
New models are not compatible with iRemove software at the moment. But the company keeps searching for solutions to this problem, and you can follow the updates on the iRemove Telegram account.
How to Use iRemove iCloud Activation Lock Removal Software
It is easy to use the software. Click one button, and you will bypass the Activation Lock screen on a compatible iPhone or iPad in several minutes.
Ensure your device is running iOS 12.0 or newer firmware version and perform these actions to succeed.
Step 1. iRemove installation.
Download the iRemove software on your Mac computer, install it. The tool will verify your locked device and let you jailbreak it if it is not yet jailbroken. After ensuring that your iPhone or iPad is compatible with the bypass service, you will be able to place your order.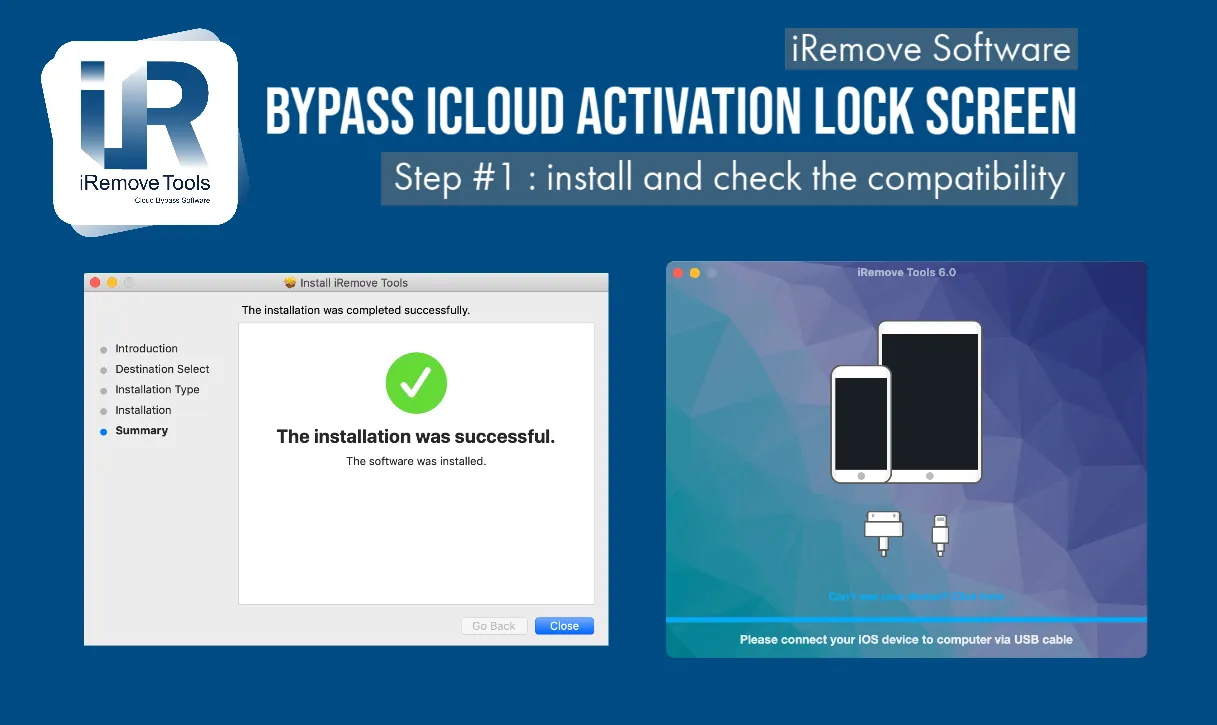 Step 2. Order Placement.
You can fill out the order form and pay for using the service at the checkout page. At this stage, the IMEI number or Serial of your iPhone (iPad) is remembered by the service database. The order grants you a lifetime license for reusing the iRemove software on the same device in the future at no additional charge. It is handy if you factory reset your gadget or install a newer iOS version.
You can pay with your credit card, cryptocurrency or use your Z3X dongle box account credits towards your order. Besides, the service offers Money-Back Guarantee to every customer.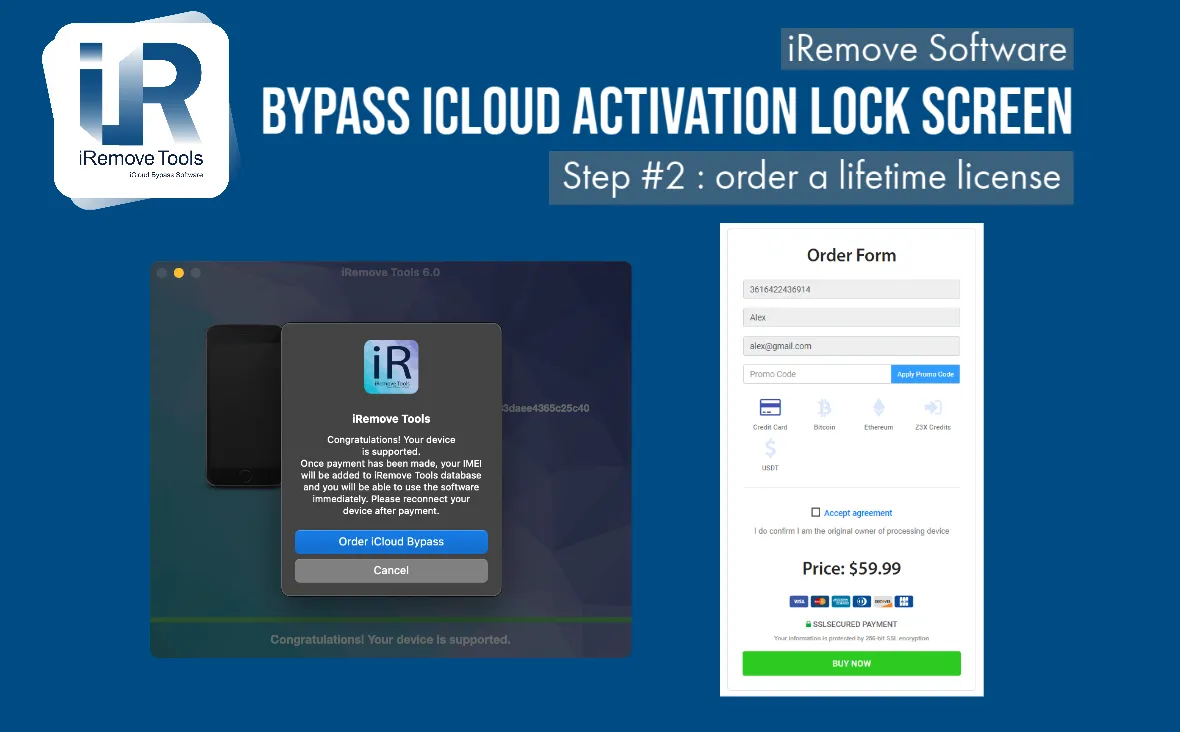 Step 3. Remove Activation Lock.
After ordering the service, you should disconnect your iPhone or iPad and reconnect it back. The tool will verify your device and show the 'Bypass' button you must click to start.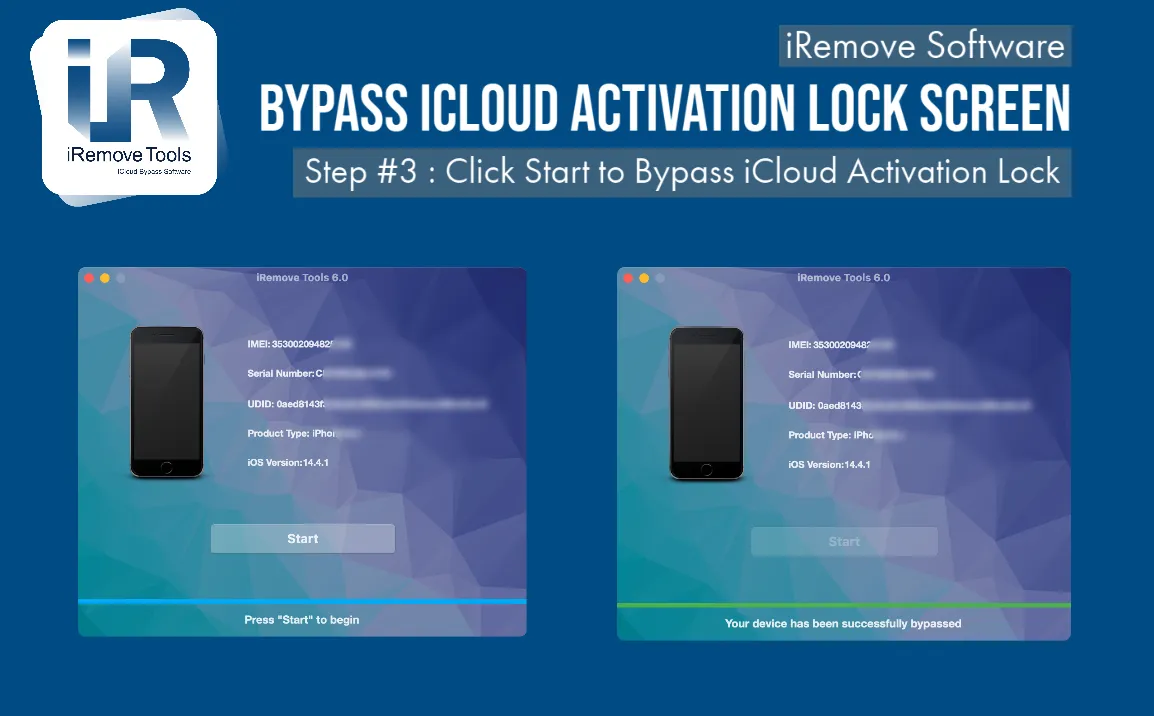 You will know at once that the iCloud Activation Lock is removed. Firstly, your mobile device will reboot. Secondly, the service will tell you about a successful bypass. And, of course, you will enjoy a fully working iPhone or iPad at once with a calling feature, internet connection, all functions, and the ability to sign in with your Apple ID. There are no limitations from this moment.
Can I trust a third-party service to remove iCloud Activation Lock on my iPhone or iPad?
Do not hurry to order just any service online. Many fake services perform fake checks and promise to contact Apple and fix your problem remotely. We can't guarantee that any service you will find online will help you.
There are low chances of using a solution without reviews and guarantees.
Can't I use the remove Activation Lock tool offered by other developers?
Well, you can at your own risk. Most iCloud Activation Lock bypass tools can only bypass GSM gadgets without activating your iPhone or iPad modem running on iOS up to 13. Thus, you might not be able to place calls or answer the calls. Some tools even disable many functions on your device after bypass.
We can only guarantee that iRemove bypass software will fix your problem bringing back all functions and features to every compatible iOS device. You will download iOS apps, connect to WiFi and mobile internet, make phone calls and use your gadget without restrictions. You will have a lifetime license and regular software updates to support the most recent iOS versions.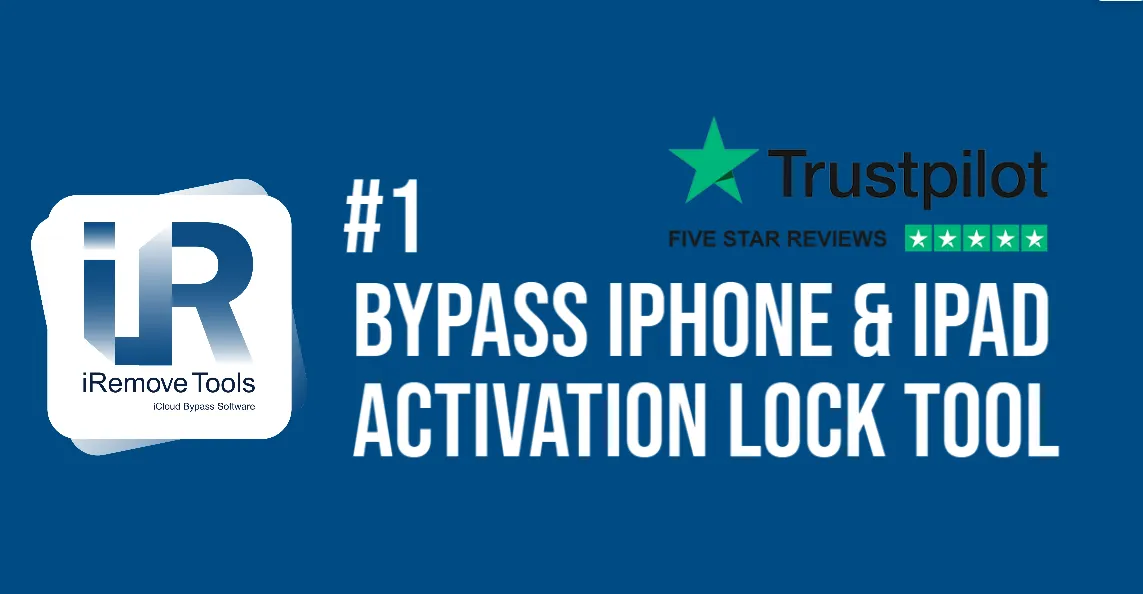 Our company guarantees a full money-back policy within two weeks. You will love iRemove Customer Support, always ready to assist you, great on-screen guidelines, simplicity of the software, and one-click solution. Besides, you can be sure that if your model is specified on the service list, you will remove iCloud Activation Lock!
The iRemove tool has a strong reputation on the Trustpilot review website. You can find all the reviews of this bypass service in Trustpilot's category 'Cell Phone Recycling and Unlocking Service'.
iPhone & iPad Unlock Software