Why is my iPhone is disabled connect to iTunes?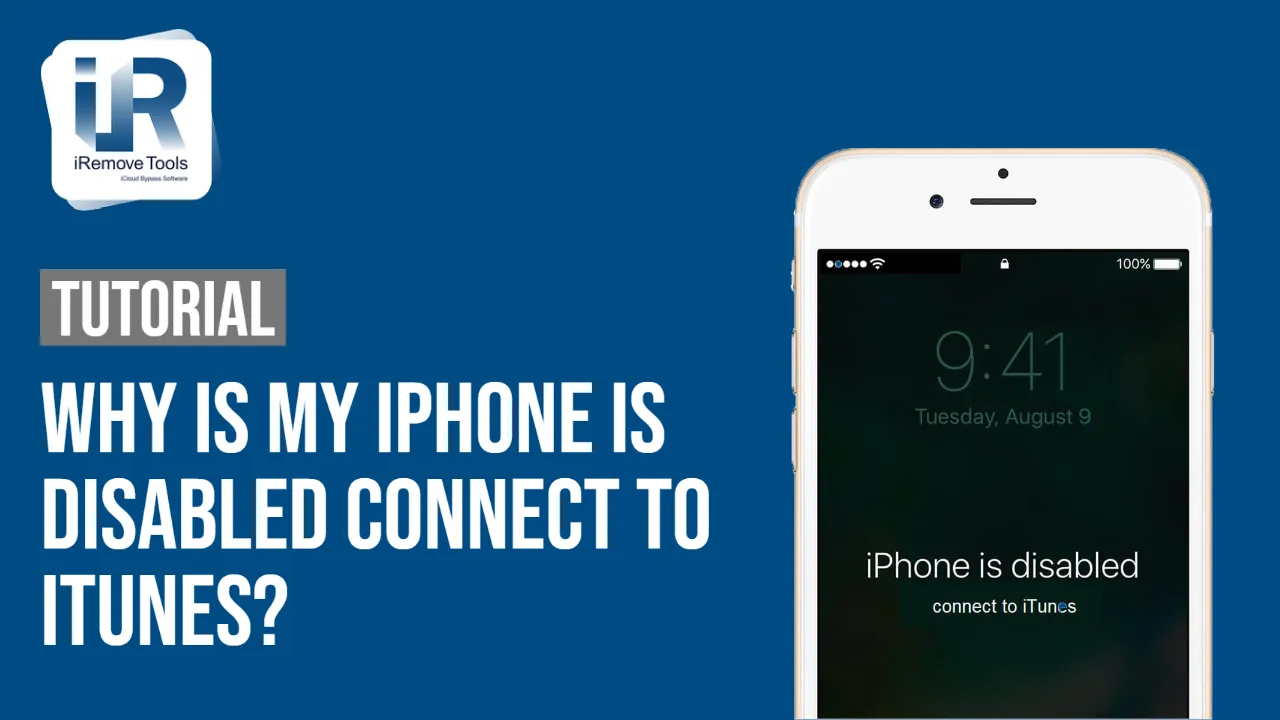 Glossary
Simple Fix to iPhone Is Disabled Connect to iTunes Problem
Apple users know pretty well how often iTunes has glitches. However, the error 'iPhone is disabled connect to iTunes' displayed on your smartphone might have nothing to do with the popular software. The issue is most likely with your mobile device. But luckily, there is a simple fix you should give a try.
Inside this guide, you will learn how to unlock a disabled iPhone using a reliable tool called iRemove Tool. It works fast, distantly, and the best part, it requires no password. So, if you forgot passcode and now your iPhone is disabled, asking you to connect to iTunes, the iRemove software can fix everything.
iPhone Is Disabled Connect to iTunes Reason
There are two possible reasons why you experience an issue 'iPhone won't connect to iTunes':
Reason 1. The problem is with iTunes. It is an issue on Apple's end.
Reason 2. The problem is with your iPhone, which is disabled and is not operable as usual.
It is useless to fix the iTunes problem. You can try to reinstall the app. But most likely, the issue will be gone as soon as Apple introduces a workaround solution.
But it is easy to fix the iPhone won't connect to iTunes problem caused it being disabled. The iRemove software is designed to help unlock disabled Apple devices from iPhone 7 and up to iPhone X models.
But why are you disabled? Apple phones with Find My installed on them self-lock when you enter the incorrect passcode while unlocking the screen. Several unsuccessful attempts and the gadget becomes 'disabled' for 1, 5, 15 minutes or 1 hour. It finally enters the 'disabled' mode, which can only be unlocked with the iRemove or a similar bypassing tool.
Can I Fix iPhone Is Disabled Connect to iTunes?
The iRemove Disabled iPhone Unlock Tool ready to bypass pin lock screen from iPhone 7, 7 Plus, 8, 8 Plus and X models on any iOS version. This solution how to unlock a disabled iPhone requires a single click only.
How do you know that you are eligible? It is simple. Download the iRemove tool, install it on a Mac computer, and run it. It is free to let the software check your iPhone, whether you can bypass the 'disabled' problem or not.
If you are eligible, you can unlock a disabled iPhone by following the how-to guide below.
How do I unlock a disabled iPhone?
The unlock software is a straightforward solution. You will enjoy using it. Here are two reasons why:
Firstly, the iRemove tool does not make you connect to iTunes. So you have nothing to worry about if you cannot recollect your passcode.
Secondly, this how-to-unlock guide works remotely. You do not give or send your smartphone anywhere. You only need to connect to your computer and run the software.
Requirements:
Make sure your iPhone is disabled and asking to connect to iTunes;
The software runs on Mac and Windows PC;
Use iRemove to check if you are eligible;
Order the service only after the tool has assured that it can unlock your phone.
How to Unlock Disabled iPhone using iRemove Tools
Step 1. Connect your phone to Mac.
Step 2. Run the eligibility check with iRemove. If everything is ok, you should be redirected to a new page to make the payment. Once you order the service, you need to disconnect and reconnect your smartphone back to a Mac computer.
Step 3. When the payment is collected and cleared, you automatically gain a lifetime license for using the iRemove tool on the one disabled iPhone which you are unlocking at the moment. Its IMEI (or serial number) is added to the software database, which allows you to use the software again for free in the future if it ever locks itself.
Step 4. Now click the 'Start' to begin the unlocking process.
Step 5. When the unlock is finished, wait until you see a message about a successful bypass. The phone will reboot itself before this, so do not touch anything and do not interfere.
iPhone & iPad Unlock Software