Remove Activation Lock & Disable Find My on Apple Watch S1, S2, S3
How to remove Activation Lock and disable Find My on Apple Watch series 1, 2 and 3 and unlock it with out Apple ID or Password via new Unlock Watch Tool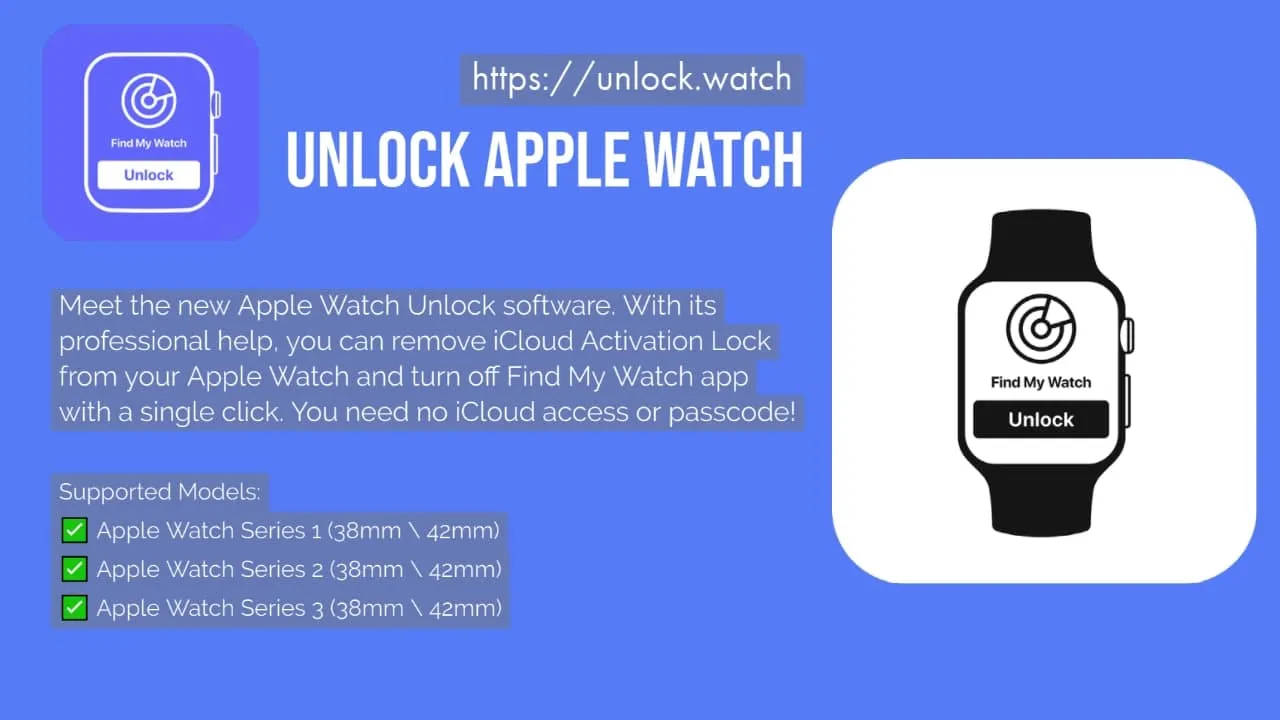 Glossary
Permanent Unlock Apple Watch S1, S2, S3
Buying a used Apple Watch with Activation Lock or trying to bring your smartwatch back to life without Apple ID and password could be a complicated task. Luckily, there are tools such as Unlock Apple Watch software (https://unlock.watch) that can deliver a permanent solution to S1, S2, and S3 iWatch devices.
Reliable unlock services are the only chance for many users to give a second life to their gadgets.
Locked Apple Watch Unlock
Once the watch is paired to iPhone, you cannot remove Activation Lock and disable Find My by erasing its content and settings. Only unpairing first can fix the problem, but you cannot unpair without Apple ID and password.
When you need to unlock locked Apple Watch, you should rely on trusted services that truly deliver an impressive result. It is even better when Unlock Apple Watch software is user-friendly, remote, straightforward, and fixes your problem in a single click.
Benefits of Unlock Apple Watch Software
There are many advantages of using software to unlock Apple Watch from unlock.watch:
You complete unlock in ONE click;
The solution is available remotely;
You need no skills or knowledge to use the tool;
You don't need an Apple ID or password to unlock your locked smartwatch;
The software is compatible with Apple Watch S1, S2, and S3 (38mm/42mm);
You need no paired iPhone;
The software automatically turns off Find My Watch along with delivering unlock;
You will enjoy PERMANENT unlock;
You can use the unlocked Apple Watch with no restrictions!
Boasting a user-intuitive interface and on-screen guides, the reliable software for permanent unlock Apple Watch S1, S2, S3 requires only one additional accessory.
How to Use Unlock Apple Watch Software
There are only several steps to take to unlock your Apple Watch and turn off Find My Watch without Apple ID, password, or a paired iPhone.
It is a must to prepare the smartwatch for unlocking. And the additional accessory you must use is the iBus adapter that connects your smartwatch to the Lightning cable, which in its turn connects to Mac.
The iBus cable is essential because permanent unlock on Apple Watch S1, S2, S3 is possible in DFU mode and with a smartwatch connected to the Mac computer.
Three Simple Steps for Permanent Apple Watch Unlock
You will love how quick and straightforward Unlock Apple Watch software is. There are only three steps that keep you from having an unlocked smartwatch with disabled Find My Watch.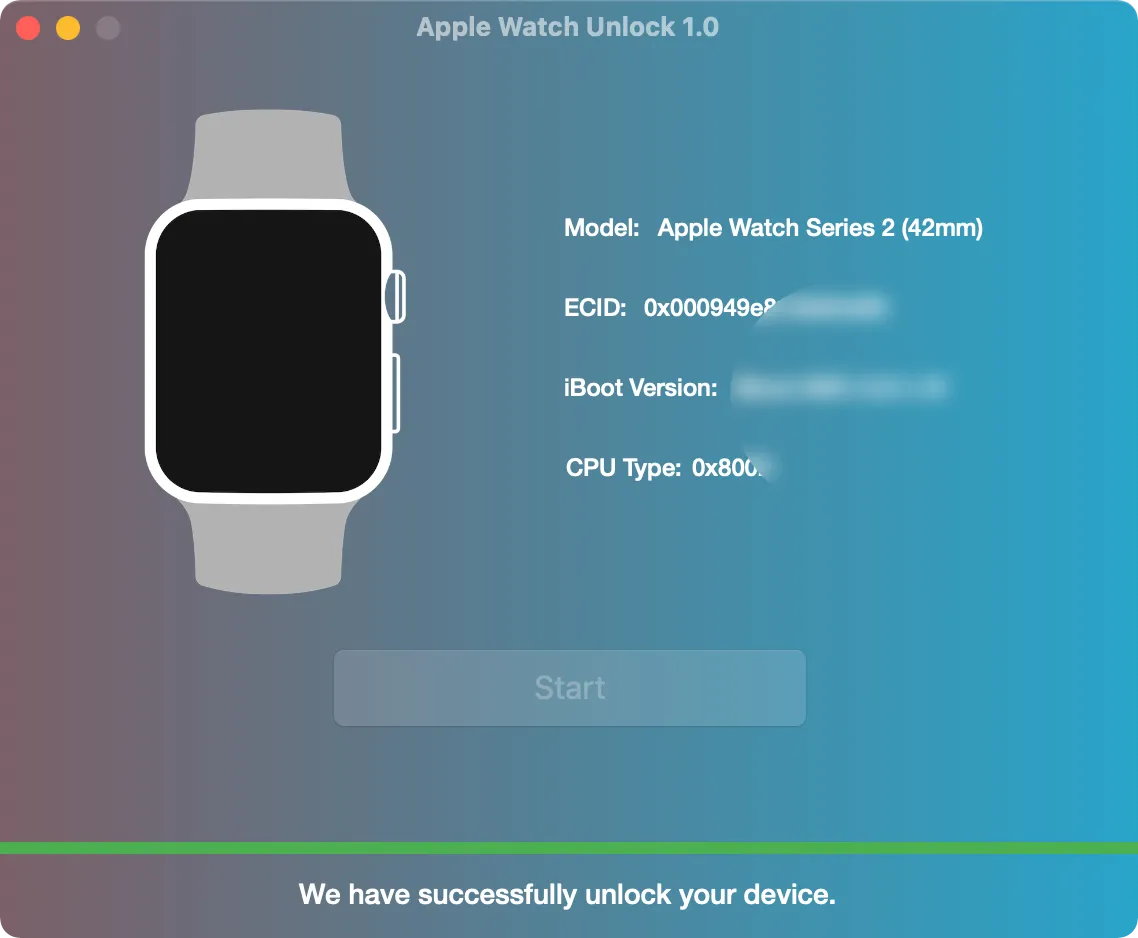 Get the most recent version of Unlock Apple Watch software on unlock.watch and install it on a Mac computer with macOS X El Capitan 10.11 or newer. Create an exception for the software in your Mac security settings to install the PKG file. Do this from Finder - Control-click the software icon - Launch by double-clicking and complete the installation.
Connect your Apple Watch to your Mac using the correct iBus adapter (it depends on your smartwatch Series 1, or 2-3) and Lightning cable. You might need a needle to access the maintenance port located in the band reservoir. Do not push hard. Now you need to Put Apple Watch in DFU Mode.
Order the service to perform permanent unlock on Apple Watch S1, S2, S3. As soon as you connect your smartwatch to Mac, the unlocking tool will make sure you are eligible for using the service. It will then forward you to the Order Page with the Apple Watch ECID code already entered into the Order Form. You will need to add your details, email, and pay for the order. Besides, you agree to the Terms & Services by placing an order.
Now you can complete permanent unlock by clicking the 'Unlock' button. This last step is super-fast.
Right after unlock, the software will ask you to reset Apple Watch. So please wait for it to boot and click-hold your Digital crown for several seconds until you see the 'Reset' option.
The ECID number of each customer's Apple Watch is added to the service database. This way, you are granted a lifetime license for reusing the unlock software on your smartwatch model in the future for free.
Apple Watch Unlock Trusted by Many
The unlock.watch is the software you can trust:
It guarantees a full refund to every customer who hasn't gotten the service described.
You are welcome to rate this tool on Trustpilot and other review websites trusted by millions from all over the world.
Customer Support is willing to help you in every situation.
The simplicity of the tool and its user-friendly interface will let you enjoy the unlocking process. And right after one-click unlock, you can use your Apple Watch as if new, without limitations or restrictions.
You will receive permanent unlock Apple Watch S1, S2, S3 services remotely and quickly. Besides, the tool will turn off Find My Watch on your smartwatch even without the paired iPhone or Apple ID/password.
iPhone & iPad Unlock Software