How to Reset and Change Apple ID Security Questions and Answers?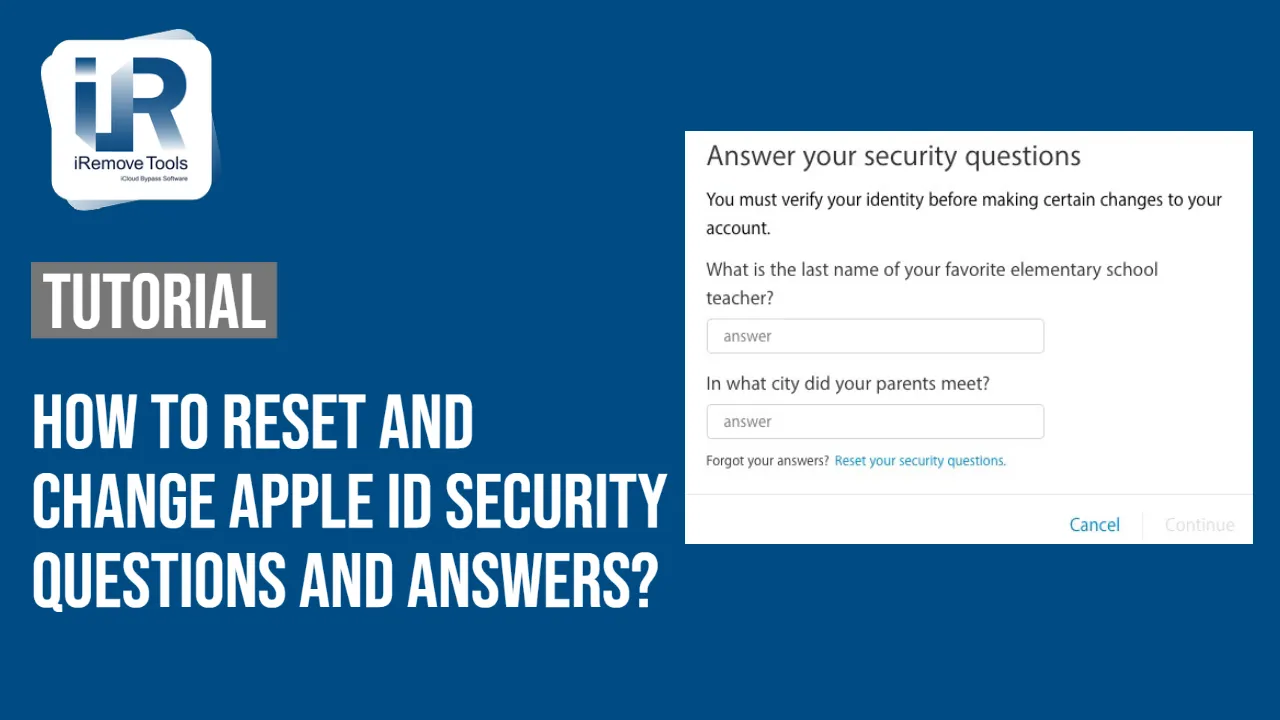 Glossary
We think that there is no Apple user, who did not face the problem of answering Apple ID secret questions. And for many it is like thorn in side.
It seems to be a simple procedure, at first sight. But as practice shows, 95% of users have difficulties with this issue. Then answers to Apple ID security questions looked clear, and when we need to provide answers (that you pointed) after some time something goes wrong?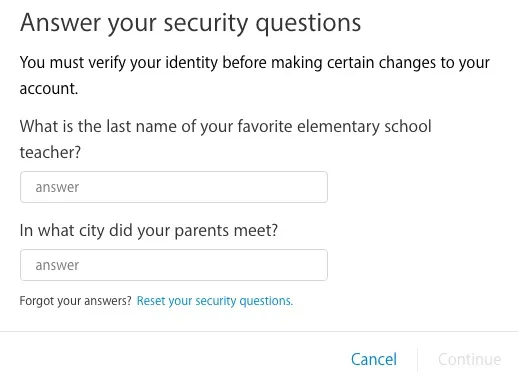 So, what is the main problem and why users forgot Apple ID security questions?
The answer to this question is very easy. Users mostly do not remember Apple ID security questions and answers because they simply forgot them or do not remember details. Did I used capitalized letters? Did I use Cyrillic, Latin or other symbols? How can I remember such different information? SOS! Do not panic, this tutorial describes how to change, edit or reset answers to Apple ID security questions and what to do if you forgot answer to secret questions.
When Apple users need to change or edit Apple ID security questions and answers?
Each of us could face with this problem. We choose Apple ID secret questions and answers not seriously, trying to skip this menu item and go farther. Remembering them for few days and then just forget. Entering wrong answers to security questions can lead to future blocking of device. That's why it is important to remember all questions and answers.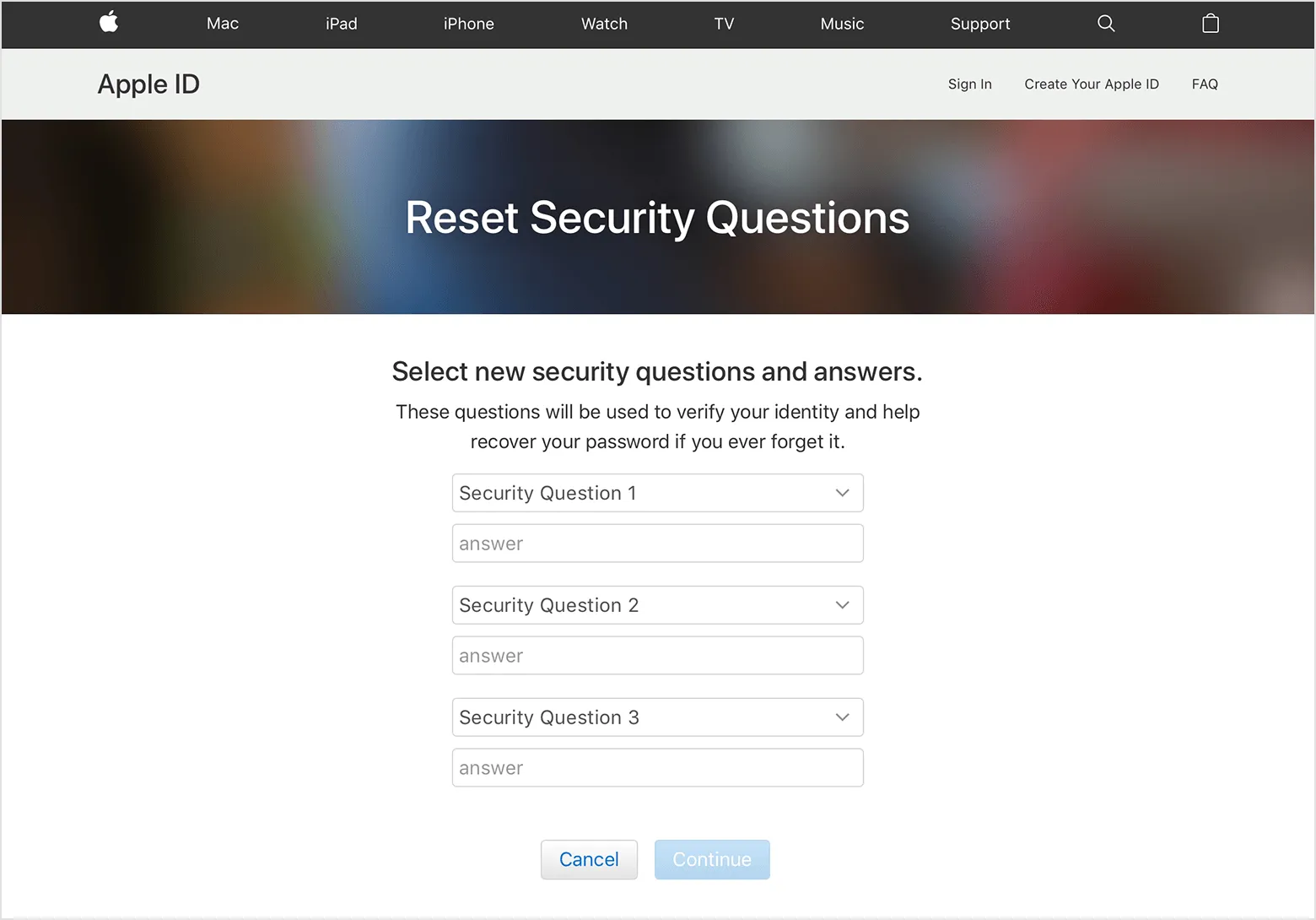 Apple company developed Apple ID secret questions and answers to provide the extra security of data. We have chosen security questions and provide answers to make Apple company asked us them in such cases:
If someone will try to enter your Apple ID account and trying to pick up password;
If your account was blocked for security reasons, when you have entered your password wrong for several times;
If someone will try to make purchase from your Apple ID;
Your Apple ID could be hacked by scammers.
Secret questions are the keys to restore access to Apple ID
At the moment, Apple company offers you several options for recovering lost / forgotten password from Apple ID account. The first one is resetting the password on Email Recovery – email account that you entered when created Apple ID. The second one is to answer on two secret questions. The third one is the two-factor authentication. And the fourth one is through a trusted device.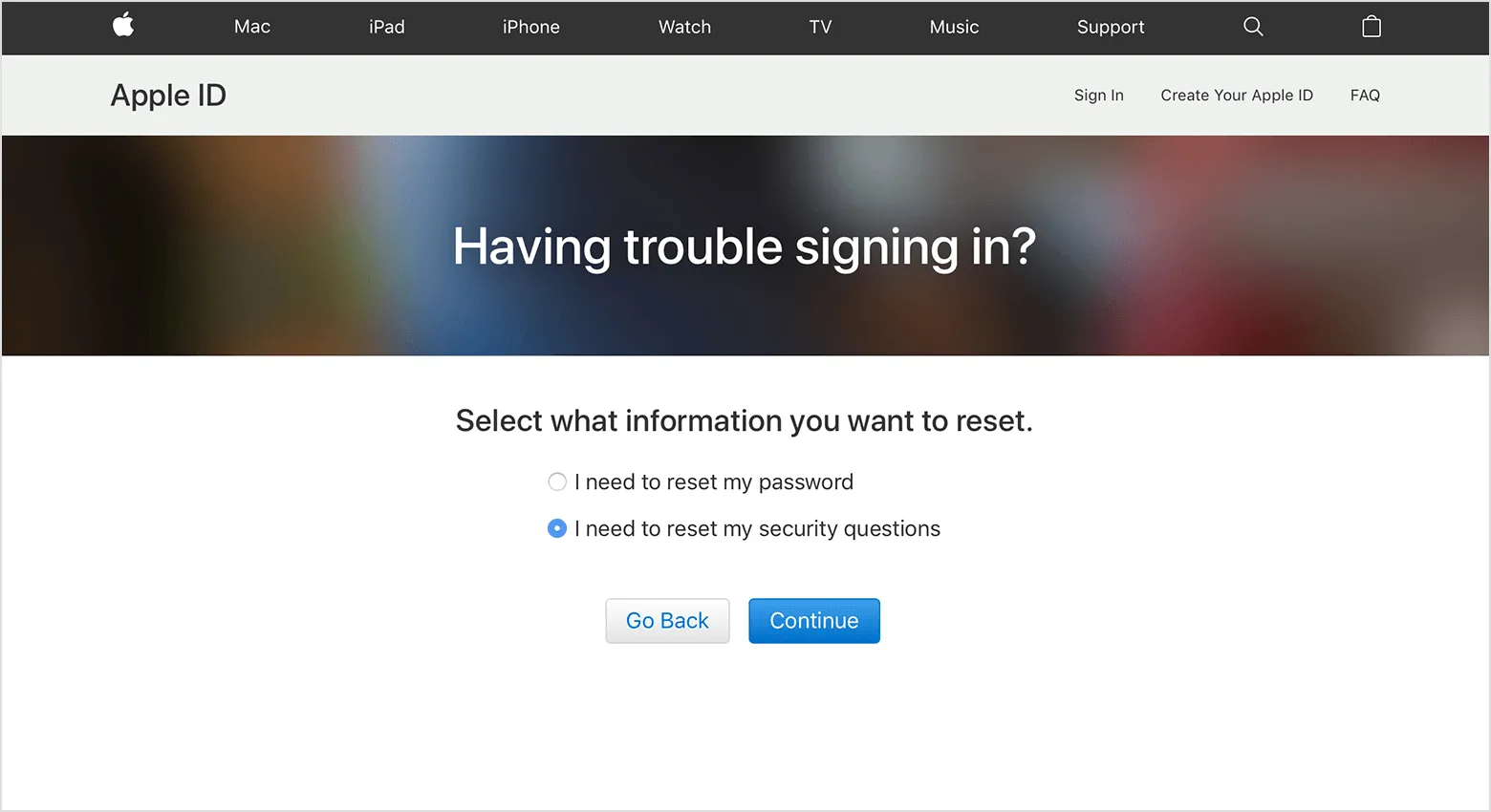 If you forgot your Apple ID password and you need to restore it Apple will offer you to recover it by answering Apple ID security questions.
Answers to Apple ID secret questions will be necessary if you have lost access to your mail (forgot a password from the mail / you have corporate mail / your mail was blocked or hacked). And also, if you do not have a trusted device, because in order to have a trusted device you must be the owner of more than one Apple device. And if you did not set up two-factor authentication.
In this case you need to answer only for two random questions at the same time (do not forget, when you create Apple ID you gave answers for three questions). If you enter at least one of them incorrectly, you will not even be able to know which response was wrong. While several unsuccessful attempts will result in temporary account blocking.
What happens if Apple ID is blocked?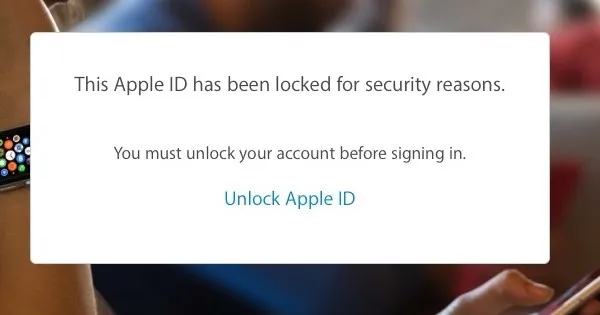 If Apple ID was sign in on your device and Find my iPhone function was turned on, you could not turn this off, because for turning FMI off device will ask you to provide Apple ID password. This situation is like endless circle. The problem is especially relevant when you have not entered your own e-mail but have chosen 'Create a new one' option and created it on iCloud side (in this case your address will look like [email protected])
The e-mail is blocked and the any password you will enter will be wrong, even if you enter the old correct one.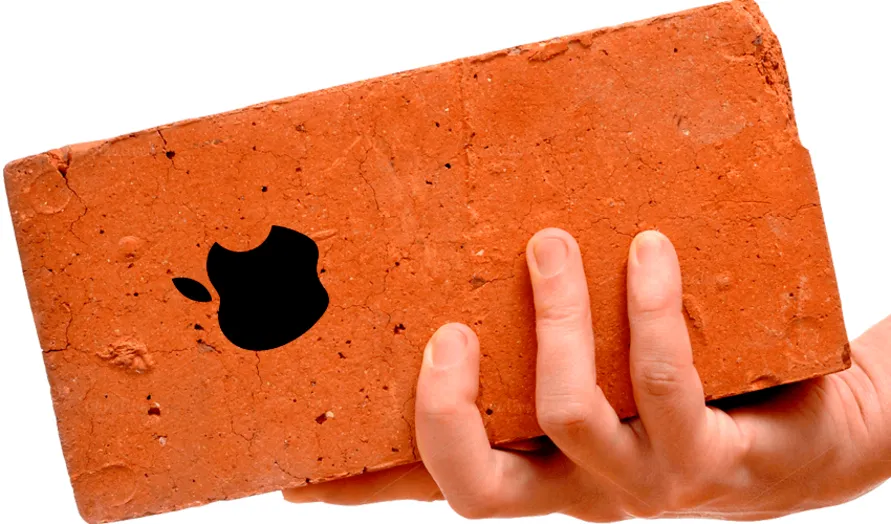 At first glance, everything is not so scary as nothing will happen until you update device (or it will automatically update itself) or you will make a gadget reset or even settings reset. Then the device will be permanently blocked, and you will not be able to fully use your iPhone/iPad. After rebooting you will see Apple iCloud activation screen. You will need to provide official documents to unblock your gadget. As we know, this can be difficult, since hardly anybody in our time keep checks for purchases. 99,9% that you could not unblock it by yourself and that you will stay with a brick instead of functional gadget.
How to reset Apple ID security questions and answers if you have access to Apple ID account settings?
If you need to reset Apple ID security questions and you have an access to your Apple ID then we have good news for you. Reset process will be quick and easy.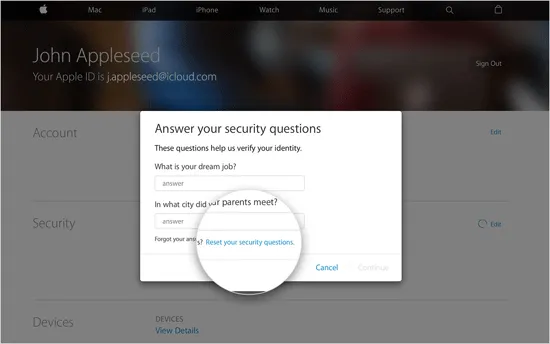 Firs of all you need to login to your Apple account. Then you should do following steps:
Click 'Edit' in Security section;
You'll be asked to answer Apple ID security questions before you continue;
Now click 'Change Questions'. If you need to set them up, choose 'Add Security Questions';
Choose your new Apple ID security questions, then type the answers;
Add and verify a rescue email address.
Try to write down or screen this data and do not lose it
If you do not have access to your Apple ID account to change Apple ID Security Answers.
Unfortunately, this situation is also common. But do not worry! This tutorial step by step guide will tell you how to get out of this problem.
Go to Apple ID account page and click 'Forgot Apple ID or password' link;
Enter Apple ID;
Choose the option with a password reset and click 'Continue' button;
Choose the correct way to reset your password:

to receive an e-mail message, choose 'Receive e-mail'. Use the message sent to your primary or backup email address to reset the password;

if a recovery key is requested, use the procedure for two-factor authentication or two-step verification.
I forgot answer to security questions and cannot reset Apple ID password!
Unfortunately, quite often there are cases when the user cannot reset Apple ID password. As we described earlier, this happens when the account is locked for security reasons or when they do not have access to mail and has forgotten or does not know the answers to security questions. It is common for users who purchased the device at such online stores as Amazon, Ebay etc. A user can simply buy a blocked device without realizing it. It certainly will damage a dishonest seller karma, but the customer will have to deal with this problem.
Furthermore, this problem is not something that you can solve by yourself. iOS reinstall iOS or restoring iPhone device or settings drop would not help your device, it would be blocked permanently. Without access to Apple ID you won't be able to purchase applications in App Store. Apple Music, FaceTime, Find My iPhone, Game Center, iBooks Store, iCloud, iMessage, iTunes Store etc. will be inaccessible for you too.
How to remove Apple ID without knowing answer to Security Questions and Rescue Email?
Do not worry! In such cases our iRemove iCloud Unlock Tools can come to your aid. This service can help you bypass blocked Apple ID or remove Apple ID even without the access to Rescue Email. After bypassing you can use the fully working device. The user will be able to create a completely new account with new security questions or use old one. It is available 24/7 and easy in use. In case of some problems our support team will be happy to help you. If you are a victim of fraud and do not want to lose your hard-earned money, just use our service.
iPhone & iPad Unlock Software