Unlock MacBook Pro & Air via Z3X Box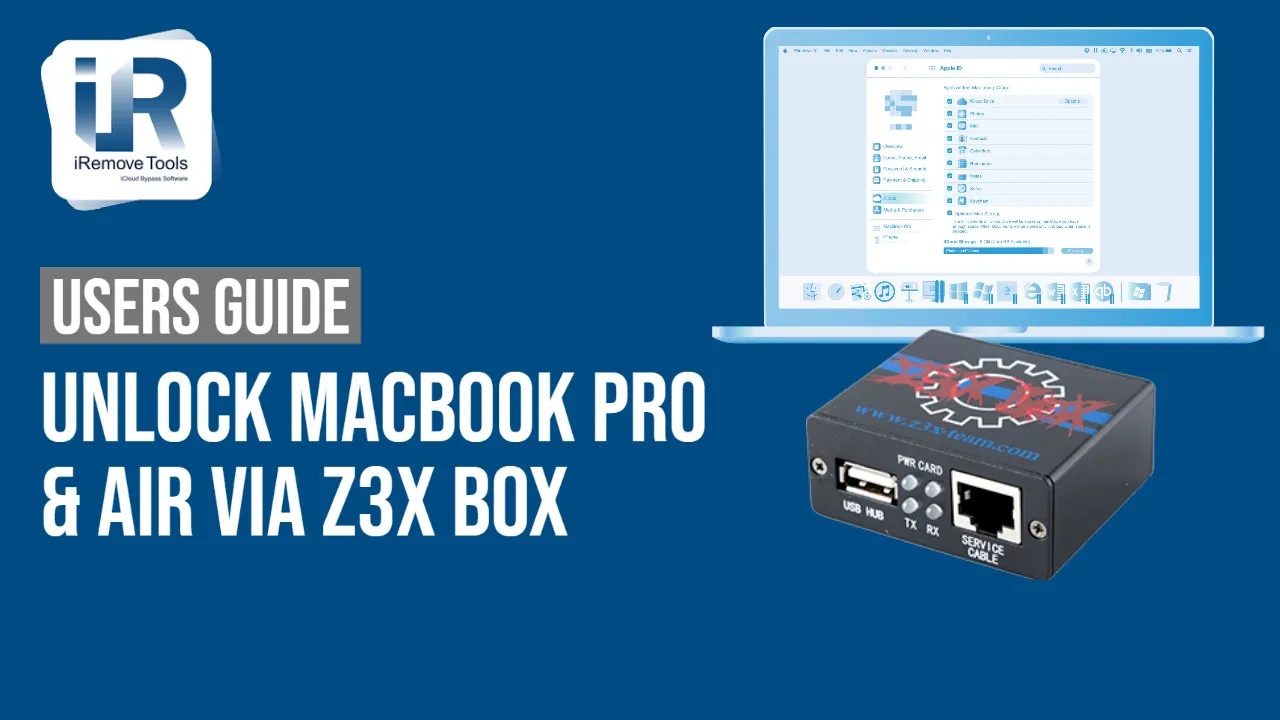 Glossary
How to Use Z3X Box Credits to Unlock MacBook Pro & Air (2017-2021)
It is always pleasant to receive discounts on valuable services. If you plan to bypass Activation Lock on MacBook in 2021, your Z3X server credits will come in handy. Find out how you can use Z3X box credits to unlock MacBook Pro & Air (2017-2021) with iRemove iCloud Bypass Tools. The discount is available to every Z3X Dongle, Z3X box, Z3X box Pro and Z3X Easy-Jtag Plus user.
Turning Your Z3X Box Credits into a Discount: How-to Guide
Detailed instructions below explain precisely how you can spend your Z3X box credits on the iRemove services to unlock MacBook Pro & Air (2017-2021).
Before you can use your Z3X credits as a discount towards iRemove services to unlock MacBook Pro & Air (2017-2021), you should download the bypass software from its official iRemove iCloud Unlock \ Bypass Software website.

This software can run only on macOS. It is a user-friendly solution for every person wishing to unlock MacBook Pro & Air (2017-2021). As soon as you launch the iRemove tool, it will check your device for compliance with the unlock requirements. Only eligible users will be redirected to the service order page.
Enter your details as prompted in the Order Form. For payment, select the 'Z3X Credits' to use them as a discount.

Before you sign in to your Z3X account, you should use the Z3X Shell (Alpha) to generate a unique token you will use as your password.

After installing the Shell (Alpha), launch it and find the 'Credits' menu to type in your regular username and password to sign in.

Toggle the second option. It reads, 'Login cannot be used with any third-party software'. A 'Show token' option will appear right next to it, which you must click to general a token (please, remember it).

With a generated token, log into the Z3X account in the iRemove Order Form with your regular username and unique one-time-use token. You have nothing more to do. All your Z3X box credits are automatically applied towards your order, and you see the final price reflecting your discount.
Now you can pay for using iRemove bypass software to unlock MacBook Pro & Air (2017-2021).
As you can see, it is as easy as shelling pears to use your Z3X box credits as a discount on iRemove iCloud Bypass services. It is time to unlock your MacBook Pro & Air (2017-2021) from Find My Mac iCloud Activation Lock, EFI firmware password, or Mac iCloud System PIN code.
iPhone & iPad Unlock Software