Unlock iPhone [Carrier SIM Lock]
iRemove Tools
You can easily unlock your iPhone and bypass the carrier's lock with a new one-click solution from iRemove. Our team has developed an impressive carrier SIM lock bypass for iPhone models running iOS 12.0 through iOS 14.8.1. This service is the most reliable for fixing 'SIM Not Valid' and 'SIM Not Supported' activation issues.
Please note that the iRemove iPhone [Carrier SIM Lock] bypass tool does not support blacklisted iPhones. Also, ensure you have disabled Find My iPhone app on your device before using the software!
Supported iOS Firmware:

from iOS 12 up to iOS 14.8.1

Supported iPhone Models:

from iPhone 5S up to iPhone X

Supported Carriers:
Bypass Carrier Lock and Unlock iPhone Pricing
Bypassing carrier lock on iPhone is easy if you choose the iRemove tool. Our one-click solution will solve your problems instantly and unlock your iPhone for all SIMs from any network worldwide.
Pricing
Models List
A-Models
Price
iPhone X
A1907, A1902, A1865, A1901
$29.99
iPhone 8 Plus
A1864, A1898, A1899, A1897
$29.99
iPhone 8
A1905, A1863, A1906, A1907
$29.99
iPhone 7 Plus
A1784, A1661, A1785, A1786
$29.99
iPhone 7
A1780, A1779, A1778, A1660
$29.99
iPhone 6S Plus
A1699, A1690, A1687, A1634
$29.99
iPhone 6S
A1633, A1688, A1691, A1700
$29.99
iPhone SE
A1724, A1723, A1662
$29.99
iPhone 6 Plus
A1522, A1524, A1593
$34.99
iPhone 6
A1589, A1586, A1549
$34.99
iPhone 5S
A1457, A1518, A1528, A1530, A1453, A1533, A1428
$29.99
How To Unlock iPhone?
To guide you through the iPhone unlocking process step-by-step, the iRemove development team has created instructions for Mac and Windows users.
Download & Install Unlock iPhone Software
You can use iRemove Unlock iPhone [Carrier SIM Lock] Software on Windows PC (7/8/10/11) and Apple Mac if it runs on macOS 10.11 or later. Follow the instructions below and learn how to install and run the iRemove tool on your computer.
Please note that the bypassing tool supports both MEID and GSM iPhone models!
Instructions for macOS Users
Download the iRemove Unlock iPhone [Carrier SIM Lock] Tool for macOS and go through its installation process. Right-click the tool icon. Left-click 'Open' and give the app full permissions. If you experience any issues running the iRemove when FileVault is enabled, turn off FileVault for a while.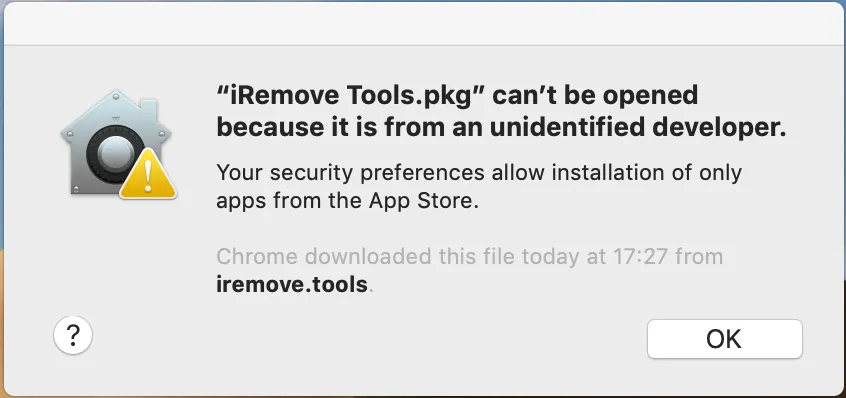 'iRemove Tools.pkg' can't be opened
Some users will see a warning from their Mac when launching the iRemove app. Software not registered with Apple is listed as apps from unidentified developers. The app is error-free and has no issues, but you need to tell your computer to launch it.
Please follow the official Apple Guide on Open a Mac app from an unidentified developer to run the iRemove Tool on your device without issues.
Run the Installer

Allow the installation

Let the installation finish
To open iRemove software, you should click on its icon or on Launchpad icon in the Dock. If you chose Launchpad option, click by iRemove Software icon.
Guide for Windows users
Download iRemove Unlock iPhone [Carrier SIM Lock] Software for Windows and start the installation process. Unzip the downloaded package and compleat installation.
Check if iPhone is eligible for Carrier Lock Bypass
Using a USB cable, you should connect your iPhone to Windows PC or Mac computer. Wait for the iRemove Software to detect the connected smartphone. If the software sees your iPhone has not been jailbroken yet, it will prompt you to run Checkra1n Jailbreak. Mac users can easily complete this task because the Checkra1n app is built into the iRemove Unlock iPhone Tool for macOS. All you need to do is press the 'Start' and then follow the on-screen guidelines to complete the process.
Please ensure you have disabled the Find My iPhone on your handset before you run the iRemove iPhone Unlock Tool.

If your iPhone is blacklisted, the iRemove iPhone Unlock software will not support it!
Follow the instructions provided by the Checkra1n app (they depend on the model of your iPhone or iPad) on how to put the mobile device into DFU mode. It is an important step for beginning the jailbreak process. It is essential for you to do just as shown on the screen to get into DFU mode successfully. Users who are not comfortable with the on-screen prompts can use instructions on how to put the iPhone into DFU mode prepared by our team.
After the jailbreak, the iRemove tool will detect your smartphone as a jailbroken device and check its compatibility with the iRemove Unlock iPhone [Carrier SIM Lock] Software. Eligible users will be redirected to the payment page. Here you can press the 'Order Carrier Unlock' button and get to the Order Service webpage.
Connect your iPhone/iPad using a USB cable

Wait for the software to detect your device and prompt to jailbreak it

Use the Checkra1n tool to jailbreak your iPhone or iPad. Press 'Start' to begin
Put your iPhone or iPad in DFU mode following the on-screen instructions

After jailbreak, the iRemove Software will detect your jailbroken device

If your iPhone or iPad is eligible for bypass, you will be redirected to the payment page
Windows users who want to run the iPhone Unlock Tool on their computer must also jailbreak their smartphone. Unfortunately, the Windows version of the iRemove Carrier Lock Bypass Tool has no built-in Checkra1n jailbreak. Checkra1n does not officially support Windows computers.
Please don't be upset! We have a solution! Our development team has posted a detailed user guide on how to easily jailbreak your iPhone or iPad on a Windows PC using the optional Checkn1x tool. Please follow these user-friendly jailbreak guidelines to prepare your iPhone for bypassing Carrier Lock on Windows PC.
Order iRemove iPhone Carrier Lock Bypass Software Licence
You should pay for your order as you place it. Choose your most convenient payment method. We accept Visa, Mastercard, American Express, Cryptocurrency, and Z3X credits. As your payment gets cleared, the iRemove Database makes a record of your iPhone or iPad unique Serial Number or IMEI. Finally, you can bypass carrier lock and unlock your iPhone.
The record in the iRemove Database is permanent and it gives you a lifetime license. You receive only one license per one locked device, which IMEI or a serial number has been recorded. It grants you the right to reuse the iRemove software on that one device at no cost after each iOS update or factory reset!
Unlock iPhone with iRemove Software
The iRemove Software will automatically check your license availability for the connected carrier-locked device. At once, it will notify you if you can run the tool. Click the 'Start' button and do not turn off your smartphone until the software notifies you that the process of bypassing the carrier lock has been successfully completed.
Press 'Start' and wait for the tool to finish unlock process.

Carrier Lock Bypass has been completed successfully

Please share your experience with others!
Once you use the iRemove tool on your iPhone or iPad with Checkm8 exploit, your device will easily skip the SIM Activation step as it starts. It will be a fully working gadget with all the regular features. You can reuse the iRemove software on your device free of charge after every iOS update or factory reset, but only in case our software officially supports that iOS version. We can not guarantee that our tool will work on future iOS or macOS updates. Still, we do our best to upgrade our software on time and offer you the best solutions in the market!
iRemove Software Partnership
Wholesalers and small business owners will love the benefits our partnership offers. You can become our partner if you have a GSM store, workshop, or other business. The iRemove Partnership Program supports GSM Fusion, DHRU, and other popular GSM services. We use API connections for connecting reseller websites to the services we offer. We have also developed a client system for quick access to all services.
Become an iRemove Affiliate
Do you have a tech blog? Are you running a YouTube channel or Instagram account? Join the iRemove Affiliate Program to earn extra money and enjoy passive income. You can offer Mac users the iRemove unlock and bypass services and benefit from being our affiliate. If you wish to start earning extra money today, please send us your Affiliate Request.
Join Affiliate Program