Difference between Bypass and Unlock of Apple Devices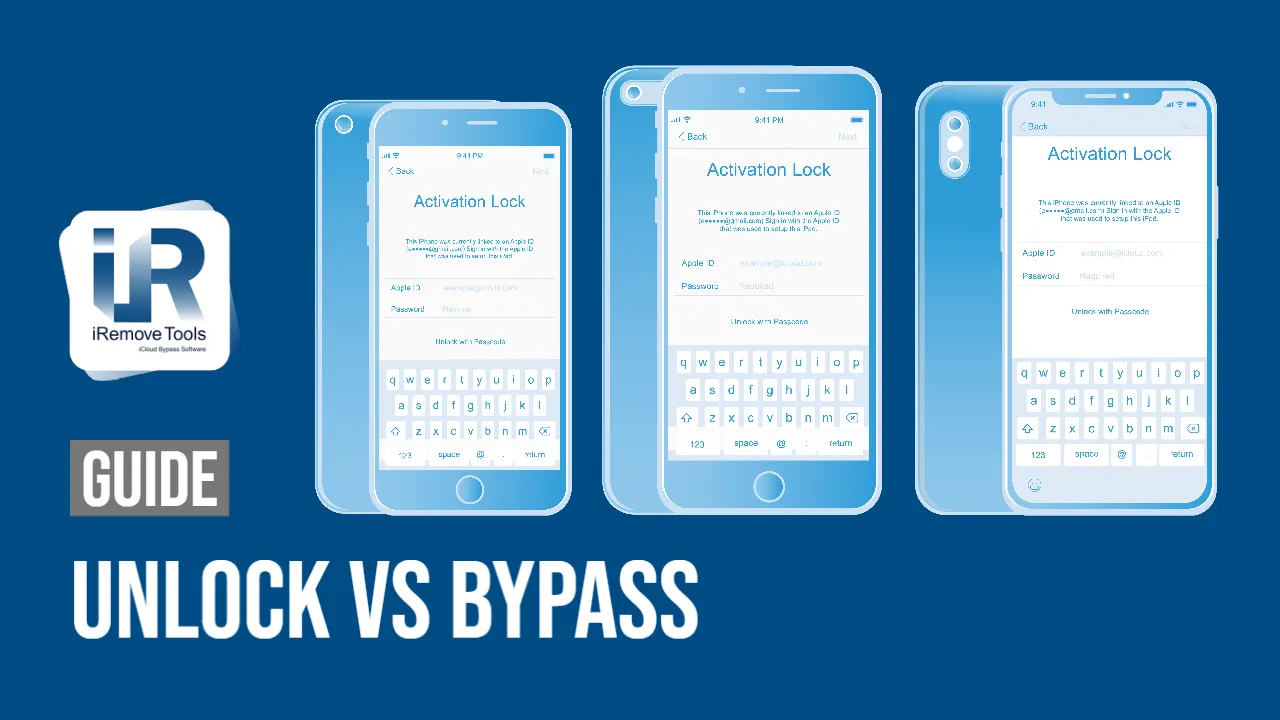 Glossary
Bypass and Unlock are closely related with Apple company products. Despite the fact that iPhones, iPads and iPods touch are not very affordable, Apple devices are high-quality and reliable. That's why people very often look for ways to buy a used or even stolen device, as they are much cheaper than a new one. But in case of such operations, the possibility of getting a blocked device is quite high.
You have problems with your device? Have bought a used device and it turned out to be blocked? iCloud Activation screen appeared on your iPhone? Forgot answers for secret questions? Have bought iPad with Demo mode? Do NOT know what to do? Are confused about the difference between UNLOCK & BYPASS? Do not worry, we will help you!
What is iPhone Unlock?
Unlock is the process of 'untying' the mobile phone from the operator, allowing you to work with SIM-cards of any cellular operators. The unlocking is necessary if your iPhone was purchased with a specific mobile phone operator contract (usually phones purchased in the US), but you want to use the SIM card of another operator.
IMEI of all ever-sold iPhones are stored in a single activation database on Apple servers. Only Apple employees and representatives of mobile operators, who have an agreement with Apple to sell locked iPhones, have access to this base. This database contains information for each iPhone about whether it is locked, if so, on which mobile phone operator.
When you first turn on iPhone or do firmware recovery or update, the device send activated ticket. iTunes sends several hardware identifiers to Apple activation server. The server finds your iPhone in Apple activation database and sends an activation token in response, which encrypts iTunes instruction to allow iPhone unlocking for one or for any cellular operators.
What is iPhone Bypass?
What is bypass? Is it the same process as unlock? Have to say that they are absolutely different things. When you unlock some restrictions – you fully remove them. They could not appear again. But when you bypass something, for example MDM configuration profile, you just pass over it, not fully delete it from your device.
Imagine that you have to pull out a weed. You can root it away, and this will be Unlock. And you also can pull it out leaving small part in the ground. And that is what Bypass means.
It does not mean that bypass is useless thing! There is a big range of cases, when Unlock is Impossible and only Bypass can save your device from coma.
Bypass iPhone MDM Lock (corporate devices)?
First of all, what is MDM device? The Mobile Device Management (MDM) provides a way to tell a device to execute certain management commands remotely. Apple MDM devices are now widely used in everyday life.
MDM corporate devices are useful for such industries. However, what should do those people, who don't work in such corporations anymore, but still have MDM devices? Should they throw devices with many limits and restrictions into a trash or can they rescue them? Due to trusted and easy-to-use iActivate tool that bypasses such MDM lock on any iOS version and any iDevice model there is no need to get rid of MDM devices.
Carrier SIM iPhone Unlock
You can buy Apple devices for bargain prices at online auctions. However, you need to be careful, because very often they are simlocked. You should also remember that when buying a phone you can get not only simlocked phone, but also this device can be reported as stolen or even with iCloud Activation lock, which won't allow you to unlock the phone without entering the user's password.
SIM-lock means that the phone has a software restriction on the mobile phone work. Sim-locked device can only work in one network. The customer who bought the SIM-locked phone from a certain operator could not switch to another GSM network. Such phones are usually sold by the operator for 10-20% of their real value, and the rest of the cost is paid by the operator. The purpose of such actions is simple: a SIM-locked phone will always remain working only in one network and sooner or later will pay back that part of invested money to operator.
Still, there are some ways to bypass Sim Lock. These include accessories such as R-SIM type card. After placing R-SIM in the phone, the lock becomes deactivated.
Such cards work with most iPhone models and on most cellular networks, and their cost is much cheaper than a full-fledged unlock. Unfortunately, this is not a reliable solution. After using old generation of this card, there could be a problem with 3G network support.
The biggest problem is that R-SIM cards can stop working after each, even the slightest update of iOS system.
Official Unlock iCloud
Call technical support. You must be the rightful owner of the device. First of all, Apple Support will ask your first and last name and your birth date. You also need to correctly answer on 2 secret questions out of 3. If you do everything correctly, Support will create a case ID and during 7 days you will get positive answer. After that all you need to do is to restore your device. If something goes wrong you must have documents confirming the purchase of the device from the official retailer.
Send a letter to the technical support, adding number of the appeal received by phone. You should attach photos of the device, which clearly shows IMEI and a check confirming the gadget purchase.
Chimera Lock (Chimaera Device Policy)
Another type of lock is – Chimera lock. This type of device locking looks like 'Next Tether Activation Policy Description: Chimaera Device Policy' and this status means that the device was stolen directly from the store.
The problem existed for a long time, but rapid growth has started since February 2017. It often happens that customer bought such iPhone, not knowing that it is Chimaera lock.
We are aware of successful cases of iPhone 'unlocking' from Chimaera Device Policy lock with a help of Apple support service. If you are sure that your phone was not stolen by someone and turned out to be in this status by mistake, then you need to collect all documents confirming the fact of purchase and provide them to Apple support. Obviously, the solution of the issue can be delayed for several weeks, but there are simply no other solutions.
If you have bought such iPhone and then found Chimera lock, unfortunately, you will not be able to unlock it.
We wish you not to get into situations like this and finally give some advice:
There are no paid unlock services for Chimaera Device Policy, and probably would never be.
If you did not convince Apple support to unlock the device – such phone can be sent to spare parts.
We recommend you to carefully check the product before purchasing, in order not to get into such trouble.
How to protect yourself from buying locked Apple iPhone or iPad?
As you can see, nowadays, there are a lot of scammers. The possibility of buying blocked device is extremely high. So, what you should to protect yourself, relatives or friends from buying a pig in a poke?
Before purchasing already used device – check it IMEI. IMEI (International Mobile Equipment Identity) is an international mobile equipment identifier, which is a number (usually 15-digit) unique for each GSM and UMTS mobile phone. It is installed at the factory by the manufacturer, serves for accurate and complete identification of the phone in the network. IMEI is stored in a special part of the phone's memory and actually plays the role of the serial number of the device.
To find out the IMEI of your phone, you need to dial * # 06 #. The IMEI code appears on the screen. To verify its correctness, the code appearing on the screen must be checked with the one written on the package, in the warranty card and on the sticker under the phone's battery.
You should ask seller to provide device IMEI and check it with IMEI-checker https://imei.org/. Using this checker, you will get IMEI Checker Report, which contains full information about your device:
Is it blacklisted or not
Manufacturer and model name of any iPhone, iPad, iPod, Apple Watch.
Is it reported as Stolen/Lost or not
Date of purchase
iPhone Initial Carrier details
Is it still under warranty or not
Region & Country of Purchase
Current iPhone Sim lock status
Date of Initial Activation
Find My iPhone Status
With all this detailed information you could make a decision whether buy a particular gadget or not. You will not be scammed. Do not risk and use IMEI-checker in order not to buy blocked device and waste your money for nothing.
iPhone & iPad Unlock Software