Metro iPhone Unlock Service for SIM Not Valid Devices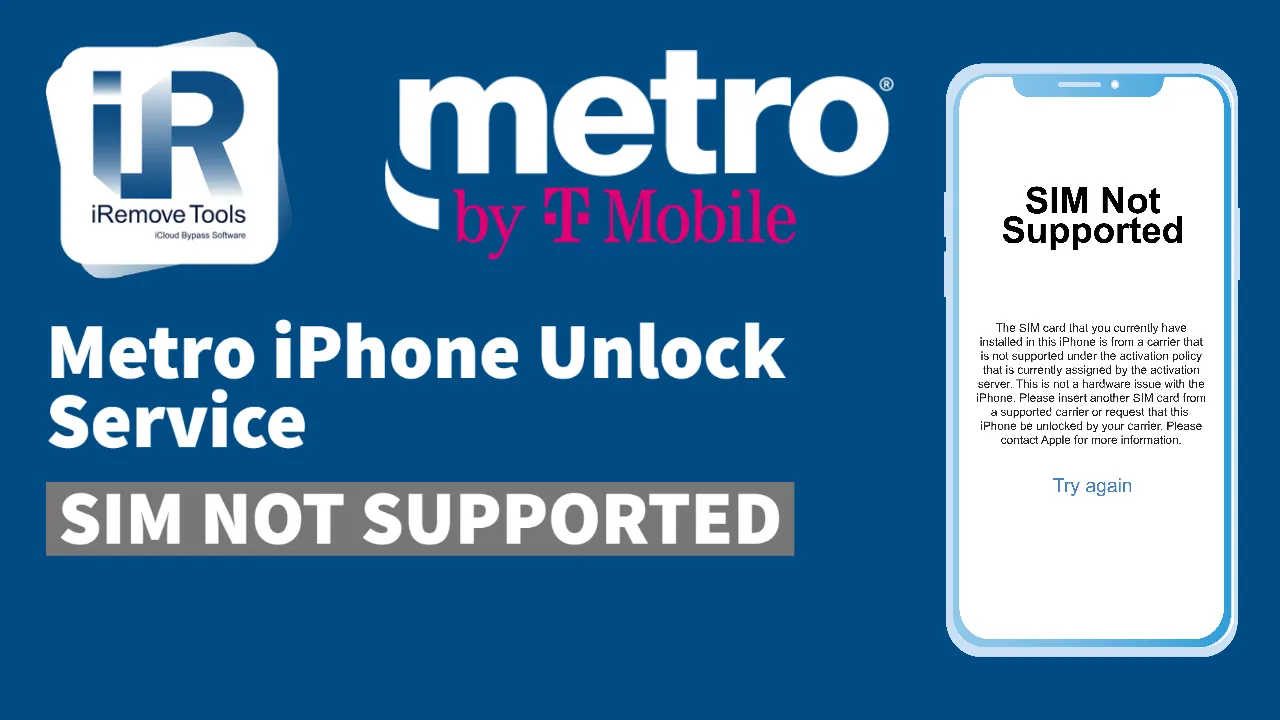 Glossary
Metro iPhone Unlock (carrier SIM lock) Service
Like many other devices, Metro iPhone smartphones are programmed to prevent them from operating on other networks. The carrier offers Metro iPhone unlock service. But there are many requirements to meet, and many users are not eligible for using the official service in the end. Luckily, iRemove software can unlock Metro iPhone in and after contract for international use.
The iRemove tools service is your perfect remote fix to the 'SIM not valid' problem. It works on iPhone 5S-X and iOS 12.0 - 14.8.1, and it can unlock your SIM card within several minutes.
Metro iPhone Unlock 'SIM Not Valid' FIX Guide
It is easy to ensure that you are SIM-locked. Insert any carrier's SIM besides your current mobile provider, and you will get the answer at once.
You are locked if you see the 'SIM not valid' message or 'SIM not supported' notice. And in both situations, your best fix is a reliable third-party Metro Unlock iPhone service such as iRemove.
Benefits of using iRemove to unlock Metro iPhone in contract or after contract:
No need to wait for 180 days to pass from the activation date;
No need to wait for two long days to remotely unlock Metro iPhone for international use;
The successful result even if your device cannot be remotely unlocked by Metro by T-Mobile.
Unlock Metro iPhone for International Use
The fix to 'SIM not valid' message is relatively quick. The iRemove tools company develops one-click software that requires no special skills or knowledge.
Before you can unlock Metro iPhone after contract or in contract, you should be sure that you have:
iPhone X, 6, 6 Plus, 6S, 6S Plus, 7, 7 Plus, 8, 8 Plus, SE, 5S;
iOS 12.0 through iOS 14.8.1;
Mac computer to use the software.
Learn how to unlock Metro iPhone with iRemove tools. You will love the user-friendly interface and on-screen instructions of this software.
Get the iRemove iPhone Unlock [Carrier-SIM lock] Tool.
Connect the smartphone to your Mac and let the software check it. If you are eligible for Metro iPhone unlock SIM card service, the tool will redirect you to the payment page.
Place your order and have the IMEI / Serial of your smartphone recorded by the iRemove Database. Along with your order for Metro iPhone unlock, you receive a Lifetime License. It grants you the right to reuse the iRemove software on the same handset in the future at no additional cost to you.
Click the single iRemove button to begin the SIM unlock process. Please wait for it to finish.
After the reboot, your Metro iPhone SIM card is fully unlocked for international use.
Summary
Are you ready to connect to any worldwide mobile network? Go ahead and insert any SIM card. Thanks to the iRemove Metro iPhone unlock service, your device receives a signal with all SIMs. Make calls, talk to your relatives, message your friends and enjoy the freedom of mobile communication anywhere you go.
iPhone & iPad Unlock Software