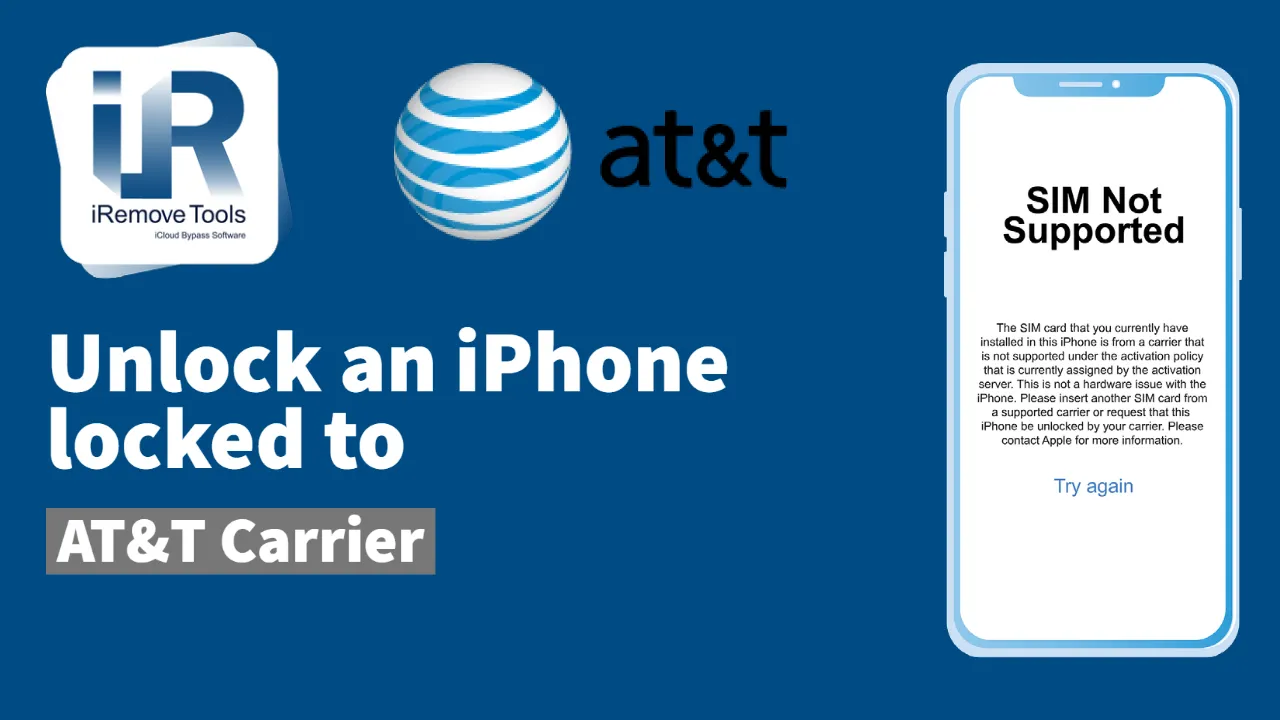 Glossary
Unlock AT&T iPhone for International Use
Fixing 'SIM Not Valid' and 'SIM Not Supported' problems on Apple smartphones can be fast and straightforward for you. One of the most popular AT&T unlock iPhone services, iRemove, helps many SIM-locked users in contract and after contract. Even if you have a non-customer status with AT&T, you can unlock your SIM card for use with all carriers worldwide!
Are you in search of a non-customer ATT iPhone unlock service? Learn how to unlock the AT&T iPhone SIM card in several simple steps and with a single click of a button. It is your good chance of successfully connecting to every international carrier without limitations and restrictions.
How to Unlock AT&T iPhone
The reliable ATT iPhone unlock 'Sim not valid' iRemove service is available to users of the following Apple smartphones: iPhone X, 5S, SE, 6, 6 Plus, 6S, 6S Plus, 7, 7 Plus, 8, and 8 Plus. This ATT iPhone unlock service is compatible with iOS 12.0 through iOS 14.8.1. You have to use a Mac or Windows computer to run the bypassing tool.
Luckily, the iRemove software will quickly unlock Sprint iPhone for international use. After this, you can switch SIMs and connect to every mobile network worldwide without problems.
Unlock ATT iPhone Tutorial
Please turn off the Find My iPhone app before you can unlock ATT iPhone in contract or after contract. It is an important thing to do!
Then download the iRemove Unlock SIM [Carrier] locked iPhone Tool. Install it on your macOS device to run a free check of your Apple handset to ensure you are eligible to unlock your SIM card.
Users who are eligible for AT&T iPhone unlock SIM card service can now order the lifetime iRemove License. It grants the right to reuse the software in the future on the same handset if anything happens and the 'SIM not valid' or 'SIM not supported' problem returns (after a factory reset or iOS update). When your payment is cleared, the iRemove Database will record the IMEI or a serial number of your ATT iPhone after/in the contract. Then you can use the tool and achieve your goal.
You need to disconnect and reconnect your gadget to unlock AT&T iPhone for international use with the iRemove software. There is only one button, so you will have no issues with clicking it to start the remote SIM card unlock procedure. Be patient and wait for your handset to reboot. The tool will let you know about a successful customer or non-customer ATT iPhone unlock.
Now you can insert a SIM of any international carrier to connect to their network. You can make calls, receive calls, send text messages, use mobile internet, download apps, etc.
Сonclusion
Now you know how to unlock AT&T iPhone SIM card to use with any carrier worldwide. As you notice, there is no need to throw away a locked device with activation problems.
The iRemove software can fix many issues, including the 'SIM not valid' one. However, it does not work with blacklisted devices. Only users who have an iPhone X, 5S, SE, 6, 6 Plus, 6S, 6S Plus, 7, 7 Plus, 8, and 8 Plus and run iOS 12.0 - 14.8.1 can order and get a one-click AT&T unlock iPhone service.
About iRemove Software
The iRemove Team developed a straightforward and one-click iRemove iCloud Bypass Software to help Apple users bypass the Activation Lock and other types of locks. The company has been helping users since 2016. Its main goal is to breathe life into the locked iPad to give the device a second life and bring back its features.
iPhone & iPad Unlock Software