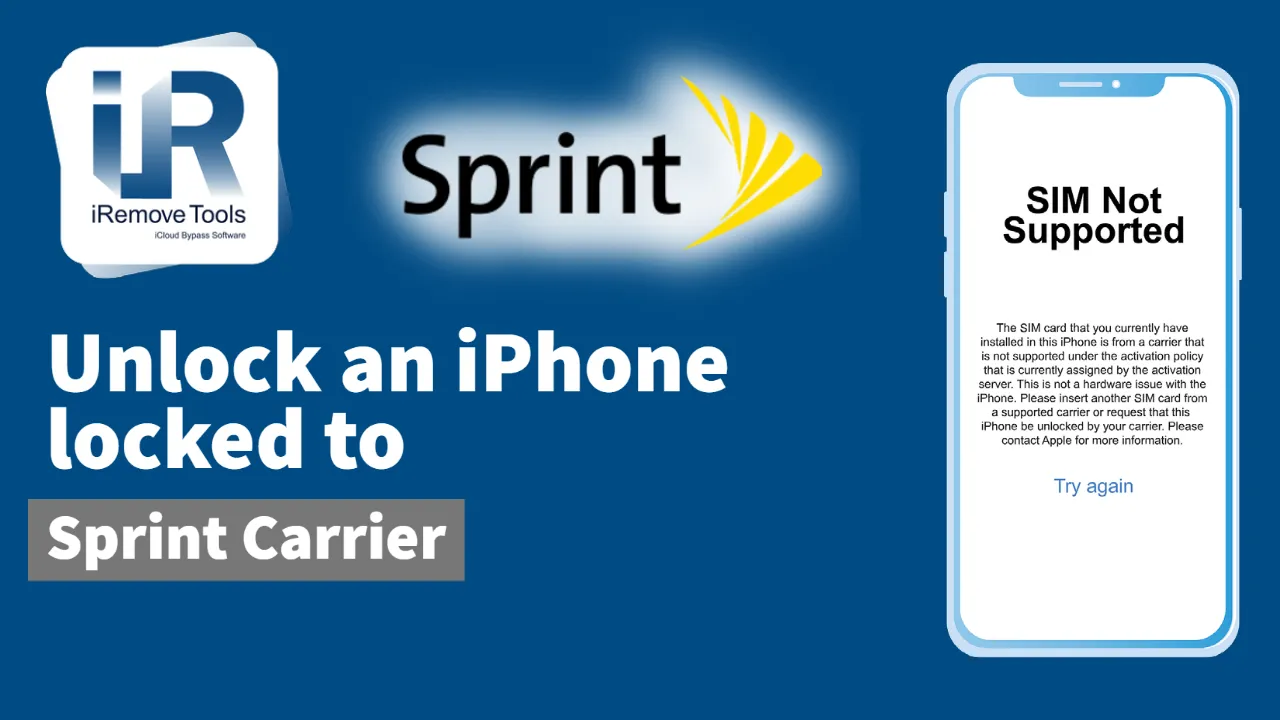 Glossary
Unlock Sprint iPhone SIM Not Valid for International Use
The best Sprint iPhone unlock SIM card service iRemove will quickly fix the 'SIM Not Supported' problem. Learn how to unlock Sprint iPhone for international use with a single click, and become free from your network restrictions today.
What could be better than traveling across your country or going abroad with your Apple smartphone and switching SIMs on the go to make phone calls at an affordable cost? Thanks to modern technologies, you can distantly unlock Sprint iPhone in contract or after contract within minutes. Such an option is available to iPhone 5S, SE, 6, 6 Plus, 6S, 6S Plus, 7, 7 Plus, 8, 8 Plus, and X users whose firmware versions are from iOS 12.0 to 14.8.1.
Learn how to use Sprint iPhone unlock service. A user-friendly guide below explains three easy steps you should take to become SIM-unlocked successfully.
How to Unlock Sprint iPhone
You need to use Sprint unlock iPhone service if you take out your regular SIM, switch for a different carrier SIM card and see the 'SIM Not Supported' message on the screen. Such a note signals a problem that you have a SIM-locked smartphone that supports only the Sprint network and does not work with other home or international carriers.
Luckily, the iRemove software will quickly unlock Sprint iPhone for international use. After this, you can switch SIMs and connect to every mobile network worldwide without problems.
To order Sprint iPhone unlock 'SIM not valid' service, you must meet these requirements:
Have a compatible iPhone model (5S, SE, 6, 6 Plus, 6S, 6S Plus, 7, 7 Plus, 8, 8 Plus, or X);
Run any firmware version between iOS 12.0 and 14.8.1;
Be locked to Sprint mobile network;
See 'SIM not valid' message when you try to use an incompatible SIM card;
Have a macOS computer to launch iRemove software and unlock Sprint iPhone after contract or in contract.
Follow a quick guide on how to unlock Sprint iPhone to solve your problem and become SIM-free. Before you begin, make sure you have disabled Find My iPhone on your smartphone. Otherwise, you will not succeed.
Unlock Sprint iPhone Tutorial
Turn on your Mac computer. Download iRemove Unlock Carrier locked iPhone Tool. It comes with free installation. The tool jailbreaks your iPhone with Checkra1n Jailbreak to remove all iOS restrictions and then checks if you are eligible for using the Sprint iPhone unlock service.
Only eligible users can get to the payment page. The iRemove software comes with a lifetime license which must be purchased. It guarantees you the unrestricted reuse of the tool after updating iOS or factory resetting your device. After payment, the serial or IMEI of your handset is recorded by the iRemove Database. This step gives you the right to unlock your SIM card.
No matter if you are still in contract or already out of it, you have to reconnect your Sprint iPhone to unlock its SIM. Run the iRemove tool by pressing its single button, and it will fix everything within a couple of minutes. The remote process is fast and straightforward. All you have to do is sit and patiently wait for your device to reboot and tell you everything is fine.
After this, you can turn on the gadget, insert any SIM (of Sprint, T-Mobile, AT&T, or any international carrier) and use the smartphone. You have no limitations, so make and receive phone calls, send messages to your friends, surf the internet, play games, use iTunes to download apps, sign in with your Apple ID, etc.
About iRemove unlock Sprint iPhone Tool
The iRemove is a perfect tool to unlock Sprint iPhone for international use. It requires no passwords to work. All you need is an eligible iPhone 5S - X on iOS 12.0 - 14.8.1, several minutes, and a computer to run the software. Please note that this service supports no blacklisted devices.
iPhone & iPad Unlock Software