Worldwide (International) iPhone SIM Unlock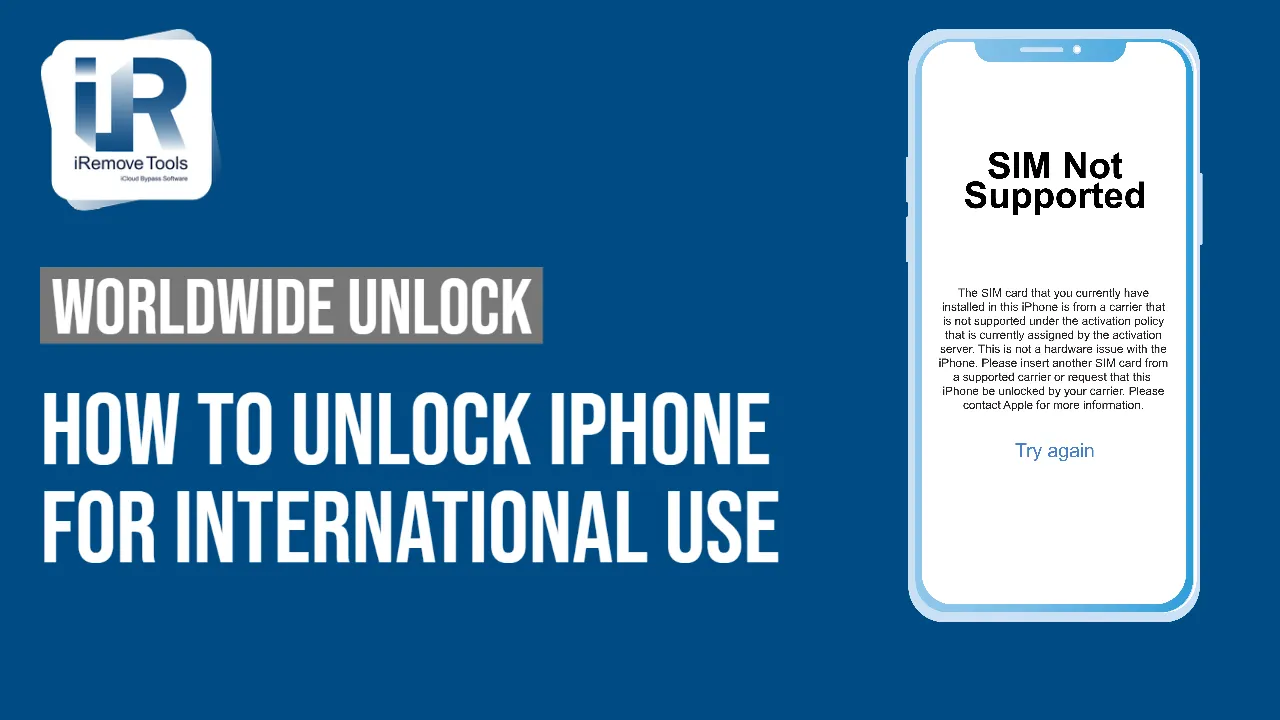 Glossary
Unlock SIM Locked iPhone for International Use
Having a SIM locked iPhone is not fun in 2021. You can find an affordable service to unlock such a device for international use and set yourself free from any mobile network restrictions. You can use the best worldwide iPhone unlock service to make your smartphone user-friendly to every SIM card you might insert.
The iRemove software will unlock SIM locked iPhone within 5-8 minutes. This service has proved to be reliable, quick, affordable, and perfect for many users worldwide. Learn how to use it and what it guarantees you.
Worldwide iPhone Unlock Service
Every user who meets the iRemove service requirements can unlock SIM locked iPhone distantly from the comfort of their home. The software is currently compatible with these Apple smartphone models:
iPhone X;
iPhone SE;
iPhone 8 and 8 Plus;
iPhone 7 and 7 Plus;
iPhone 6, 6S, 6 Plus and 6S Plus;
iPhone 5S.
The worldwide iPhone unlock service is available to users running firmware versions from iOS 12.0 and up to iOS 14.8.1.
The iRemove software supports no blacklisted gadgets. This service is perfect for you if you switch your original SIM card to a different carrier SIM and get no signal. Instead, you can often see the 'SIM not valid' or 'SIM not supported' message on your smartphone's screen. It will not disappear unless you insert a compatible (original) card or you solve the problem.
How to Unlock iPhone for International Use
You will enjoy the simplicity, and super-fast speed of iPhone SIM unlock with the iRemove software. This service comes with handy on-screen instructions that guide you through the whole process, from jailbreaking to SIM unlock for international use.
All you need to do is get a Mac computer to install and run the iRemove tool. Also, it is a must rule to disable Find My on your SIM-locked smartphone before you start using this worldwide iPhone unlock service.
Step 1. Unlock iPhone for International (Worldwide) Use. Download the iRemove Unlock SIM-locked iPhone software for your Mac computer. Connect your smartphone and let the tool jailbreak and check your mobile device for meeting the eligibility requirements.
Step 2. Unlock iPhone for International (Worldwide) Use. Every user whose device is eligible for using Worldwide iPhone Unlock Service can order the iRemove service. You will receive a Lifetime License for using this software on your one device, which IMEI or serial is added to iRemove Database.
Step 3. Unlock iPhone for International (Worldwide) Use. After paying, you can reconnect the mobile device and click the single button to unlock SIM locked iPhone. You have nothing more to do. The iRemove automatically removes mobile network restrictions for international use. When the process is over, the handset will reboot.
Now you can insert any previously unsupported SIM of the worldwide carrier and enjoy the signal. It works on iPhone 6, 6 Plus, 6S, 6S Plus, 7, 7 Plus, 8, 8 Plus, SE, 5S, and X models, iOS 12.0 - 14.8.1 firmware versions.
The iRemove worldwide iPhone unlock service quickly fixes the 'SIM not valid' issue. It lets you make calls, send messages, use mobile internet on your gadget. You do not have to worry about keeping in touch with family and friends no matter which country you are visiting.
That is how you fix the 'SIM not valid' problem on your device and unlock the Verizon iPhone SIM card for all other mobile networks. The iRemove software is perfect for Phone 5S, 6, 6 Plus, 6S, 6S Plus, 7, 7 Plus, 8, 8 Plus, SE, and X models, as well as iOS 12.0 - 14.8.1. It is a straightforward problem solving for users who wish to be SIM-free and connect to any international carrier without issues.
iPhone & iPad Unlock Software