MacBook Unlock Software
iRemove Tools
iRemove Mac Unlock Tool is ready to unlock your Apple MacBook regardless of the type of lock applied. Please note that this service offer is permanently unlock. Once the Macbook unlock process is complete, you will be able to use your device without any restrictions, including factory reset and update to the latest version of macOS.
We are working on adding new MacBook models to the list of supported unlocks. Follow us on our official Telegram channel to be the first to know about software updates.
Supported Mac Models:

MacBook Air 2018 (A1932)
MacBook Air 2019 (A1932)

Supported MacOS Firmwares:
Unlock MacBook Service Prices
In the table you can find information about the macbook model and its unlock cost.
Pricing
Models List
A-Models
MODEL YEAR
MODEL IDENTIFIER
PART NUMBER
PRICING
MacBook Air
A1932
2018
MRE82xx/A
MREA2xx/A
MREE2xx/A
MRE92xx/A
MREC2xx/A
MREF2xx/A
MUQT2xx/A
MacBookAir8,1
$99.99
MacBook Air
A1932
2019
MVFH2xx/A
MVFJ2xx/A
MVFK2xx/A
MVFL2xx/A
MVFM2xx/A
MVFN2xx/A
MVH62xx/A
MVH82xx/A
MacBookAir8,2
$99.99
How to Unlock MacBook using iRemove Software?
iRemove Dev Team has developed a step-by-step User's Guide on how to use iRemove MacBook Unlock Software
Download & Install iRemove Find My Mac Activation Lock Bypass Tool
Before you follow the guide below and remove the activation lock from your Mac, you need three things:
Locked Mac with T2 chip;
A fully workable Mac computer;
Cable for connecting two Mac computers (USB type C - USB type C).
Start by downloading the iRemove Mac Unlock software. Install it on a fully workable macOS computer.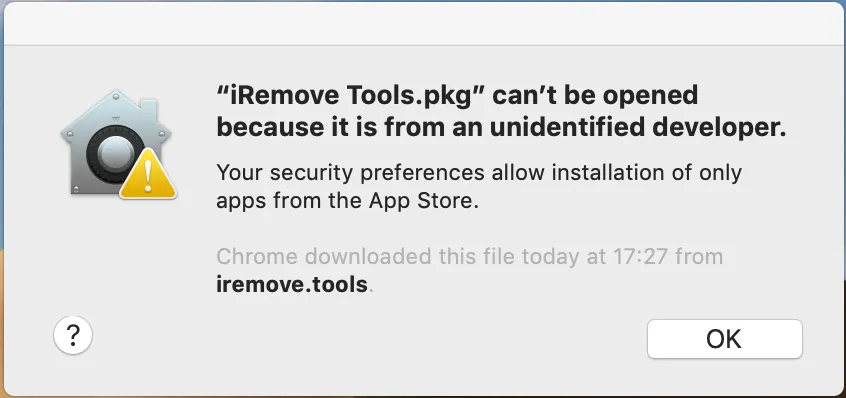 'iRemove Tools.pkg' can't be opened
If you try to open an app that isn't registered with Apple by an identified developer, you get a warning dialog. This doesn't necessarily mean that something's wrong with the app.
Use official Apple Guide Open a Mac app from an unidentified developer to run iRemove Tool on your device.
Start Software Installation

Allow the software installation

Complete the software installation
To open iRemove software, you should click on its icon or on Launchpad icon in the Dock. If you chose Launchpad option, click by iRemove Software icon. The main advantage of iRemove software is its simplicity and straightforwardness. It bypasses Find My Mac Activation Lock in a minute.
Check MacBook Unlock Possibility
Connect the two computers via the cable and type C port. The USB-C cable must support both power and data. The iRemove tool will show you a list, from which you should select the computer model which requires bypass and and ways to connect them correctly.
Follow the on-screen guide to place the locked Mac into DFU mode. There is also an instruction for putting Mac into DFU mode you can use instead.
Prepare the Apple MacBook for Find My Mac Bypass

Press the power button.
While holding down the power button, at the same time press all three of the following keys for about 10 seconds:
The right Shift key;
The left Option key;
The left Control key;
After 10 seconds, immediately release the three keys but continue to hold down the power button until it appears in iRemove Software.
Note: You won't see any screen activity from the Apple notebook computer. The software will detect your device if you correctly put it into DFU mode. Users who are eligible to remove Find My lock will be suggested to place an order for MacBook Unlock. Only verified Mac users can order the iRemove service.
You can now complete the payment. As the payment is cleared, the iRemove database will record your Mac's serial number. This record is your lifetime license for using iRemove. You can restart iRemove bypass to regain full control of your computer.
Please pay attention! The software will delete data from the device after the unlock process. Make sure all important data is backed up.
Order iRemove Mac Unlock Software Licence
Place your order and make payment. We accept following payment cards: VISA, MASTER and American Express, Cryptocurrency and Z3X credits. Once your payment is cleared, your device's Serial Number will be added to iRemove Software Database on a permanent basis. Now you are free to use the software right away to unlock your MacBook permanently.
Lifetime license - the license is provided for only one locked device, serial number recorded in the iRemove Database. You can reuse the iRemove software on your device free of charge!
Run MacBook Unlock process with iRemove Software
After we received the payment, you can return to software and click the 'Start' button in iRemove software. Do not turn off the device until the unlock process is complete. Please wait until the software completes its work. The iRemove will notify you about the result. Do not worry if your computer turns off. This means that your MacBook is unlocked. Now let the software restore your device.
To compleate the restore process please do the the following steps:
Reconnect device and put it in DFU mode. Follow onscreen guide.
Wait until software will detect your MacBook. Click by Restore Mac button.
Your device restored seccessfuly! Now it's fully unlocked!
Your Mac should be on black screen now (or missing folder icon should appears on black screen). Please Power ON your Mac device by pressing and holding the power button for 1 second. Now please install MacOS using Recovery Mode (Command + R) or Internet Recovery Mode (Command + Option + R)
How to Reinstall macOS?
You need to use macOS recovery to reinstall the operating system on your Mac. Start up you Mac computer from macOS Recovery by holding Command (⌘)-R keys.
Intel Processor (T2 Security Chip)
Your Mac computer must be connected to the Internet. Turn your Mac on and press the Command (⌘)-R keys right away. Hold the keys pressed until the Apple logo or other image appears.
Select Reinstall macOS option in the utilities window in macOS Recovery, click on the Continue button and follow the onscreen instructions.
Please follow the guidelines below during macOS installation:
If the installer will request you to unlock your disc, you should enter the password you use to log in to your Mac computer.
If the installer can't see your disc, or if it can't install macOS on your computer or volume, it is possible that you might need to erase your disc before the installation https://support.apple.com/en-us/HT208496
Do not put your Mac computer to sleep and do not close its until macOS installation is complete. Your Mac computer will probably restart and display a progress bar several times. Its screen may also be empty for a few minutes several times. Once installation is complete, your Mac might restart to a setup assistant.
Start your Mac and follow the instructions on the screen. Set up your device like new! Now you can use your device without any restrictions!
iRemove Software Partnership
Wholesalers and small business owners will love the benefits our partnership offers. You can become our partner if you have a GSM store, workshop, or other business. The iRemove Partnership Program supports GSM Fusion, DHRU, and other popular GSM services. We use API connections for connecting reseller websites to the services we offer. We have also developed a client system for quick access to all services.
Become an iRemove Affiliate
Do you have a tech blog? Are you running a YouTube channel or Instagram account? Join the iRemove Affiliate Program to earn extra money and enjoy passive income. You can offer Mac users the iRemove unlock and bypass services and benefit from being our affiliate. If you wish to start earning extra money today, please send us your Affiliate Request.
Join Affiliate Program