Unlock iPhone Locked to US Wireless Carriers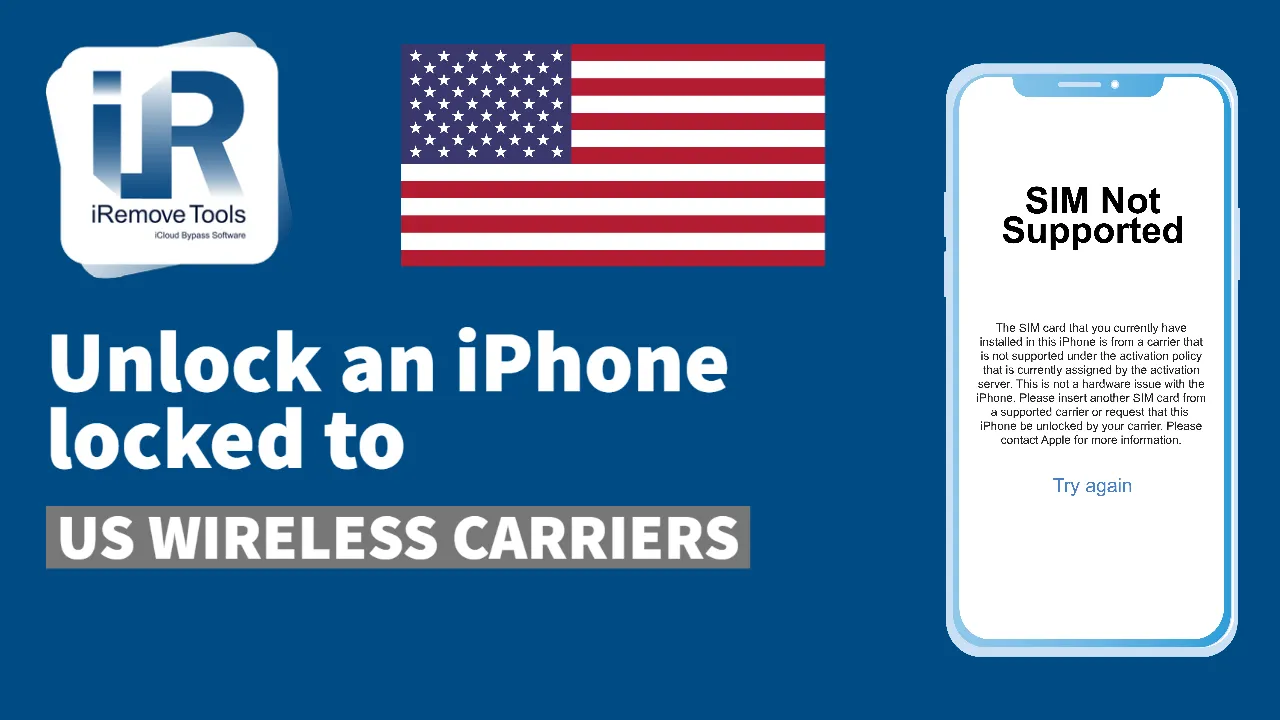 Glossary
How to Unlock iPhone from USA Carrier?
Many users own or buy a used iPhone locked to a particular US carrier, such as AT&T, Sprint, Verizon, Tracfone, Cricket, and others.
If you have no plans to switch SIM cards and connect to worldwide networks, you can use your smartphone as is. But suppose you would like to use your handset with different carriers. In that case, it is best to unlock iPhone and eliminate all network limitations.
There are two main ways to unlock iPhone locked to US wireless carriers:
Contact your mobile operator and request to unlock your iPhone.
Use the one-click iRemove tool that can remotely unlock your iPhone in a couple of minutes.
Benefits of Remote Unlocking iPhone
Contacting your carrier might be a longtime process. Firstly, the company will take a few days to look into your request. Secondly, you might not be eligible to unlock an iPhone from Sprint, AT&T, Verizon, and other networks because of not meeting their requirements, especially if still being under contract.
Using the iRemove tool to unlock iPhone SIM card is a more straightforward, faster, and reliable solution. It works on the iPhone models from 5S to X and different versions of iOS, from 12.0 to 14.8.1. It is perfect for all devices, in contract, and after agreement.
iPhone Unlock for Any Carrier with iRemove Tool
The trusted and user-friendly iRemove software offers worldwide (international) iPhone unlock for all major carriers. Using iRemove, you can enjoy the following services:
Every service is developed to remove all mobile carrier restrictions from a compatible Apple device. The iRemove tool works on these smartphones:
iPhone X, 6, 6 Plus, 6S, 6S Plus, 7, 7 Plus, 8, 8 Plus, SE, and 5S;
iOS 12.0 through 14.8.1.
All you need to fix the carrier SIM-lock problem are the three quick steps. Follow the instructions below on how to unlock the iPhone from all US wireless carriers.
Guide for Unlocking USA carrier locked iPhone
To complete worldwide (international) iPhone unlock for AT&T, Sprint, Verizon, Metro, Cricket, Tracfone networks, you will need a Mac computer and the iRemove software. You need to complete three quick steps:
Install iRemove Software and Prepare Your Device. Download the iPhone unlock software depending on your US wireless carrier. Install the software on Mac and connect your smartphone to your computer. The iRemove will check your handset to be sure it is eligible for the unlocking service.
Receive Your Lifetime License. If you are eligible to unlock your iPhone, you can pay for your order. Right after payment, the iRemove Database will record your handset's IMEI or serial number and grant you a lifetime license for using the iPhone carrier unlocking software. If anything happens to your device and SIM lock returns, you can always reuse the tool for free on the device added to the Database.
Let iRemove Unlock iPhone your device. Now, reconnect your handset and click the 'Start' button on iRemove, and the software will begin its work. The process requires a few minutes, so touch nothing and stay patient until your smartphone reboots.
Congratulations! You now have a SIM-unlocked iPhone ready to work on any network worldwide. You can switch carriers, place and receive calls, use mobile internet, communicate via messages, etc.
Summary
The 1-click iRemove service is ready to unlock your iPhone locked to US wireless carriers and give you complete freedom of mobile communication.
iPhone & iPad Unlock Software